Camping in the Pacific Northwest offers the opportunity to reconnect with nature, spend time with family, and have fun without the expense of a major vacation. With a little planning and a sense of adventure, this summer's family vacation doesn't have to break the bank. You don't even have to travel far for a wonderful outdoor experience. There are plenty of beautiful camping areas locally.

Campgrounds
In the Black Hills is the stunning Capitol State Forest. Campsites are available first come, first served at no additional cost with the purchase of a Discover Pass. There are free sites available at various areas such as Margaret McKenny Campground and Middle Waddell Creek.
Nestled in a beautiful 25-acre forest, American Heritage Campground has a paved bike riding track, a playground and playfield, volleyball, and horseshoe pits. With a heated outdoor swimming pool and free evening wagon rides on certain days, the entire family will enjoy this fun-filled campground. A primitive tent site includes a table and fire pit for $35 a night. A military discount is available for nightly rate registrations paid in cash.
Olympia Campground's reasonable rates for a tent site at only $25 make this campground in a 10-acre forest of tall firs budget friendly. Or splurge for a camping cabin at just $50 and save on the cost of a tent. A 10% discount on the nightly rate is available when paying in cash for current and former members of the U.S. military.
Family-owned campground Offut Lake Resort has all the seclusion of nature with added amenities. Tent sites have fire rings and picnic tables. The nightly rate for tent sites is $35 and includes free dock pass for each guest. Rent a canoe, pedal boat, or single kayak for two hours for $20 or a tandem kayak for $30. Eat lakefront at Lady of the Lake Restaurant and Bar, or catch your own dinner fishing from the dock.
Hipcamps
If a traditional campground is not your camping style consider Hipcamp. These private camps offer unique experiences and each with something special.
Sleep surrounded by trees near a babbling brook with Moonlit Meadows Collective. Weekends are $35 per night but receive a 50% discount weekdays.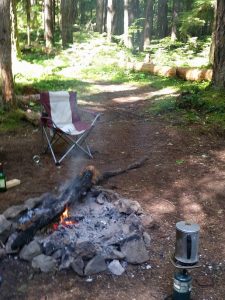 Starting at $35 per night, Dragons' Gate Gardens and Wilds offers several choices of different camping areas. With a pool, hot tub, and showers, this hipcamp is full of exceptional amenities. Jessie's Camp is off by itself allowing for a private camping experience. Surrounded by trees, Dragon's Lair offers peace and quiet. For a lush green setting try Moon Meadow. Be in the presence of abundant wildlife and connect with loved ones around a communal fire pit. Camp near a giant crystal housed in a gazebo that overlooks the surrounding fields and woods at Giant Crystal Retreat.
Grey Owl Hollow's nightly rate is $35, but receive a discount of 30% on weekdays. Ask about a Forest and Nature Therapy Walk with a certified Forest and Nature Therapy guide. For $25, this experience is sure to reduce stress and enhance creativity.
If fishing is your idea of outdoor fun, try Camp by the River. In forested land along the Deschutes River, camp, fish, and explore the Bald Hills. Bring a boat, jet skis, or kayaks and enjoy Lake Lawrence nearby.
Camping Gear
If the lack of gear is a problem see about borrowing what you can from friends and family. Buying used can also be a way for huge savings. Camping season is also garage sale season so hit local sales for deep discounts on camping gear.
Olympia Gear Exchange sells new and used camping gear. REI also hosts periodic garage sales on returned items. The next sale is on July 27. REI also offers classes, outings, and events that are outdoor focused and some of them are free.
The Evergreen State College's Outdoor Program rents all kinds of camping and outdoor equipment, including a camping package. The reasonable rates for community members are discounted even more for any current Evergreen student, staff, or faculty member.
Cost Savings
Save on travel costs by camping locally. For extra fun and savings, bring another family along. Plan for the unexpected and keep costs low without stopping for unplanned purchases. Bring first aid supplies and plenty of water. An easy way to fix almost any camping gear, at least temporarily, is duct tape. Make sure to pack a roll for patching air mattresses, fixing tent poles, or closing a hole in a tent.
Plan a menu ahead to save on stops at the store. Save on food costs by sharing meals. Be sure not to over buy food. Take only what is needed to save as keeping food fresh is difficult.
With a little planning, camping is one of the cheapest vacations around. Keep vacation fun and frugal, while disconnecting from our busy lives and appreciating the natural world that surrounds us. Fresh air, warm fires, and bright stars in a peaceful setting is a perfect and affordable way to memorable moments this summer.