Hoist the Jolly Roger and set sail for the Northwest Pirate Festival at the Thurston County Fairgrounds in Lacey July 13-14, 2019. There is so much fun in store, the entire family will have fun, even the landlubbers! Be on the lookout for pirate crews from Freedom's Revenge and The Emerald Rose, who both want to control Black Sand Bay, a place rich with good trade. These pirates have no problem running a rig (that's playing a trick) and may invite you in on the fun as you wander the streets. It's all in good fun and nobody will make you walk the plank. Still might be good to check out our "map" to the Festival so you don't end up swabbing the decks on a pirate ship, unless you want to of course!
Pirate Battles, Sea Shanties and Buccaneer Bootcamp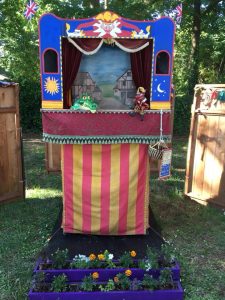 Yo ho ho! Be sure you stay for the whole day to see the three epic battles between the two pirate crews as they fight for Black Sand Bay. With live cannons and black powder, these shows will be LOUD says Shana Casey, advertising and marketing director for Washington Renaissance Arts & Entertainment Society (WRAES), a 501 (c)3 non-profit organization that puts on the festival, along with the Washington Midsummer Renaissance Faire and the Oregon Renaissance Faire. If you have been to either of these Faires, then you know you are in for a treat at the Northwest Pirate Festival – there will be interactive entertainment and activities at every turn! The Emerald Rose will be crewed by none other than the well-known BOOM Pirates. Three different pirate battles happen in the No Quarter Arena at 11:00 a.m., 2:00 p.m. and 5:00 p.m. each day.
Throughout the rest of the day at the Northwest Pirate Festival, see a sword swallower who juggles knives, acrobats, magicians, improv storytellers and musicians of all kinds. There are many shows and activities that are great for young pirates, including the famous Piccolo Puppet Players. For almost three decades, the Piccolo Puppet Players have been performing their authentic Punch and Judy puppet show throughout North America. Done in the traditional British style, this humorous show is enjoyed by adults and children alike. Catch them three times a day in the Puppet Theater.
Kids will also love exploring the pirate ship bouncy house, live parrot show, magic show and fun-for-kids storytellers says Shana. And don't forget Buccaneer Bootcamp! "They teach how to 'be a pirate' and the kids get to run around on the pirate ship," she adds. The bootcamp happens at 10:30 a.m., 12:30 p.m., 2:30 p.m. and 4:30 p.m. each day. Kids will learn about historical figures, the Pirate Code, nautical terminology and a bit of sword play. They will get to take photos on the pirate ship and each one will go home with a treasure for becoming part of their crew.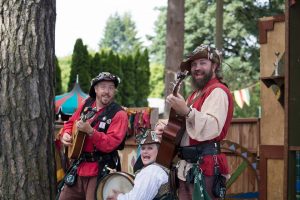 Then it's all hands ahoy for the 21-years-old and older crew at the Crow's Nest Stage for some great musical acts, including BOWI, a Celtic music group from Seattle and The Seadogs, who will teach you all the sea shanties you need to know to become a true pirate.
Spend Your Booty with Fun Merchants and Delicious Food Vendors
You are going to want to make time to hunt for treasure at the merchants who come to Black Sand Bay, after all they are so good not one, but two pirate captains want them under their control! Look for the perfect pirate garb at Damsel in This Dress, get your hair done at Adorn They Hair, find trinkets aplenty at Redwolf Ltd. and more.
Food vendors will have all kinds of tasty treats including crepes, coffee, ice cream and more. Have your Dragon's Brew bottle from one of the Renaissance Faires? Be sure to bring it as McGilly Sassparilly will be there to fill it, so drink up me Hearties! Adults should make a stop at The Blue Footed Booby. It's a great place to get some drinks, including hard cider and beer, and mouth-watering food choices.
Saturday Night VIP Piratical Party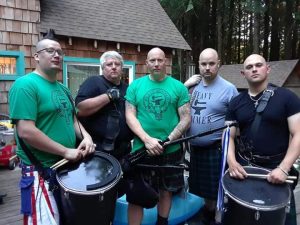 Pirates 21-years-old and over will want to be sure to get the VIP (Very Important Pirate) tickets, which include admission to the Piratical Party happening after hours at 6:00 p.m. Saturday, July 13, with Heavy Hammer, a non-traditional Celtic drumming band, and a live DJ. Hailing from Buckley, Heavy Hammer plays traditional pipe music with their own spin. Expect to hear favorites like "Amazing Grace," "Scotland the Brave," "When the Saints Go Marching In," "Fields of Athenry," and "March of Cambreath," to name a few.  Band members Jon Riggsby, Aaron Lynch, Jon Crain, Matthew Riggsby and Justin Torres say they are the best kept secret in pipes and drums.
But that's not all, those purchasing these VIP, FREC (Freedom's Revenge Elite Crew) tickets will also receive a special swag bag filled with treasures, 2-day admission to the Northwest Pirate Festival with premier parking, water bottles, and one beer or cider of your choice at the Crow's Nest Inn. You are also entered to win one of many prizes that will be randomly selected. Only 5O can join the FREC, so purchase your tickets now via the Eventbrite website.
Look for even more information as the event gets closer on the Northwest Pirate Festival Facebook. Tickets for youth and adults, including discounted tickets for children and seniors, as well as weekend and family passes, can be purchased in advanced at the Eventbrite website. Children under 5-years-old are free.
Use this coupon code for 25 percent off Adult or Family Day passes only: THURSTON25
Brush up on your pirate talk and head to Northwest Pirate Festival, where your inner pirate can cut loose for two days of swashbuckling fun.
Sponsored