Robin Johnson and her team at the 90TEN Training Academy are determined to establish a long-standing summer sports tradition in Olympia.
And judging by their efforts two years into the project, it's safe to say they are well on their way to making that happen.
Presented by 90TEN Training Academy, the 2nd annual Capital City 3on3 Basketball Tournament is shaping up to be bigger and better than its inaugural event
"The vision from the beginning has always been to make this an annual event that we continue to grow each year," said Johnson, who is the owner and founder of the 90TEN Training Academy. "We have a 3-, 5- and 10-year growth and expansion plans in place now to ensure that we maintain the organization and quality of the event, while continuing to grow,"
The tournament will take place July 20-21 during Capital Lakefair with games being played on 30 separate courts on the streets of the Washington State Capitol campus. The event will run from 9:00 a.m. to 6:00 p.m. on July 20 and 9:00 a.m. to 4:00 p.m. on July 21.
"Now that we have the first year under our belt, we have taken those experiences and lessons learned and applied them to this year," Johnson said. "We feel much more prepared and know what to expect. This event has developed into something more than I think any one of us could have imagined. We are proud to bring a positive event to Olympia that brings the community together. Originally, we were really wanting to help downtown businesses and the vibe of Olympia and we think it is playing out that way."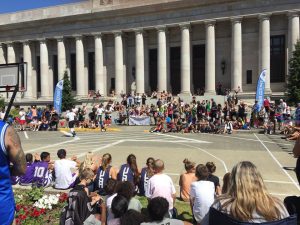 Teams can register through July 5 at CapitalCity3on3.com. Cost is $140 per four-member team and includes a free t-shirt.
"We have added divisions including first grade, youth co-ed, co-worker, and unified," Johnson said. "We have also added courts and expanded the venue to include the Temple of Justice lawn and parking lot. Our goal is to have a division for everyone regardless of basketball experience or skill level. We really strive to make this a fun, family filled weekend that has a little something for everyone."
Adult divisions include men and women's elite division, men and women's competitive division, men and women's recreation division and a unified division, featuring Special Olympics and life skills athletes. Adult divisions will be bracketed based on age, height and skill level indicated on registrations, resulting in teams competing against similar teams.
High school and youth (first through eighth grade) divisions will include girls, boys and co-ed. Rounding out the list of divisions will be coworker co-ed and adult co-ed. All team members in the co-worker division must work for the same company.
"Some things that are new to the event this year is the Toyota Shoot Off competition for the Rav4, kids zone, guest appearances from the University of Washington girls basketball team, performances from the Seattle Sea Dancers, sound projected throughout the entire venue, food vendors and retail booths, lawn games and so much more," Johnson said. "We have also partnered with Toyota of Olympia. This is huge for us. They are fully committed and just as excited about the event as we are. Not only are they our premier sponsor, but they are generously donating a brand new Rav4 that one lucky winner will get to take home."
Through its partnership with Toyota of Olympia, the Capital City 3on3 Basketball Tournament will hold a half-court shot competition with a 2019 Rav4 being the top prize.
The half-court shot competition will be July 15-18 at Toyota of Olympia from 11:00 a.m. until 7:00 p.m. before moving over the Capital City 3on3 location July 19-21. Tickets are $10 for three half-court shot attempts. Those successfully making a half-court shot will advance to the next round beginning at 12:00 p.m. on July 21.
"An event this size takes a lot of work," Johnson said.  "90TEN is known for putting on well-organized events and we strive to carry that over to the Capital City 3on3 event. We really could not do it with all the help from our sponsors and volunteers. Our CC3 board all have jobs and families and go above and beyond in making everything run smoothly. We have a board of 11 members, the Toyota of Olympia staff and countless volunteers and sponsors that make this event possible. We also work very closely with DES and the Lakefair Board to ensure we put on a well-organized event."
For more information and to register, visit the Capital City 3on3 Basketball Tournament website.
Sponsored