Conner Furu maybe going to college and playing football at Drake University in Des Moines, Iowa, but that doesn't mean he's forgotten about his gridiron roots back in Thurston County.
Last year, Furu, a 2017 Black Hills graduate who will be a redshirt sophomore running back for the Bulldogs this season, returned home from college for a long weekend and decided to help out with a youth football practice.
Some of Furu's fondest memories growing up centered around the sport. As a first grader he jumped at the chance to play football the moment it first became available to him. He wasn't alone. The fields in Tumwater were packed with youngsters who all dreamed about putting on the pads.
Times, however, had since changed.
"(I) was taken back by the lack of kids playing," Furu said about his experience while volunteering at the youth football practice. "We used to have hundreds of kids and now there is only one fifth and sixth grade combined team and they are still struggling to field a team."

Even after returning to school, Furu couldn't shake the thought of the dwindling numbers back in his hometown. But what could a college student some 1,800 miles away do about it?
"I was sitting in my dorm room and had this idea of putting on a free football camp during the Fourth of July week," Furu said. "I contacted some of the other guys I knew who play college football and we all thought it was a great idea."
The concept, a high-energy and fun youth football camp ran by current college players who played in Thurston County, immediately began to take shape.
Less than three months later, through the efforts of Furu, Thurston County Youth Football League (TCYFL) President Tim Claridge and others, the Campus to Community football camp was born.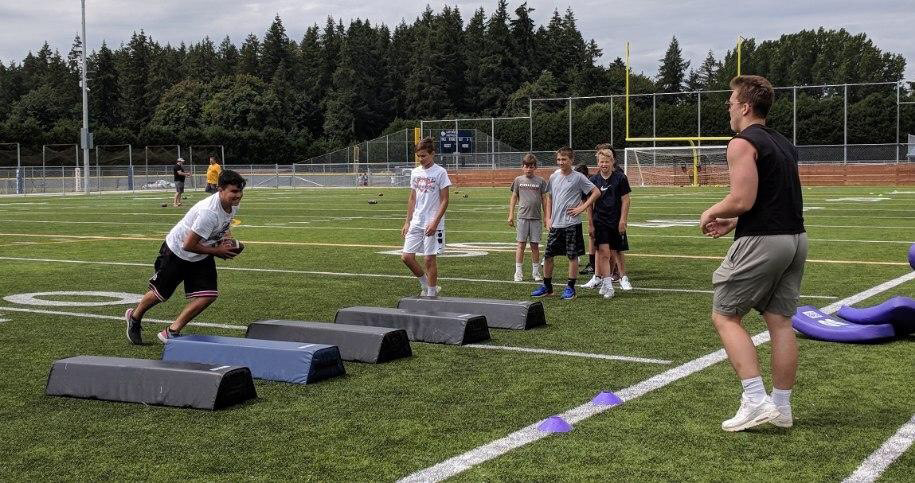 The inaugural camp was held at Black Hills High School with TCYFL, donating equipment and Furu and several other former local/current college football players serving as coaches.
The free camp had approximately 250 attendees last year.
Now, with a year to prep, Furu is all set for a second go-around.
The 2nd annual Campus to Community youth football camp will be held June 29-30 at Black Hills High School. Sessions for 2nd through 5th graders will be 11:00 a.m. to 1:00 p.m. each day, while camp for 6th through 8th grade players will be 2:00 p.m. – 4:00 p.m.
"One thing that I think the camp will benefit from is that we didn't plan it in a two-month window and are more prepared on how many kids to expect," Furu said.
Registration for the football camp can be made through the TCYFL.
In addition to volunteer coaches from TCYFL, the tentative list of former players helping with the camp this include Owen Oniskey, Ryan Peters, Cade Otton, Mason Bertelli and Corbin Hartsock.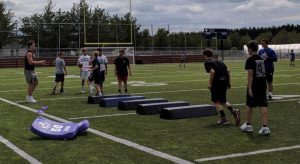 "I remember going to camps growing up where the high school players at Black Hills were coaches in the camp and myself and other kids were always so excited for them because the high school guys were so cool to us. I feel like this is like that but to a different scale," Furu said. "The whole point of the camp is that we as college athletes want to give back to the community that made us who we are and got us to where we are. I hope that kids seeing guys who walked in the same shoes as them gives them confidence that they could do the same."
For a second consecutive year the Campus to Community youth football camp will be free.
"The other college guys and myself didn't want to exclude anyone from the camp because of monetary reasons so we made it free," Furu said.
Players are required to bring water, cleats and a mouthguard. The rest of the equipment will once again be provided by TCYFL. There is no deadline to sign up, but space is limited.
"I loved every bit of my youth football experience. From starting up in first grade to signing my (National Letter of Intent) to go to school," Furu said. "I think over all the memories of playing football what I remember most is the relationship I made. The relationships with my coaches, teammates and opponents. Which I think is a cool part of this camp because most of the college guys who are helping out on this camp I've played against or with all my life."