The Bourdons of Sandstone Distillery have used ingenuity and carried their eco-friendly ethos throughout the development of their business. John Bourdon began his adventure with making spirits by cobbling together two of his wife's kitchen pots. As the venture grew into a business, they modified shipping totes into combination cooker/fermenters and giant soup kettles into stills.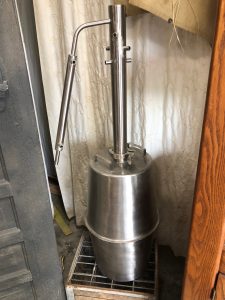 When they learned the I.P. Callison mint factory in Chehalis had an old milk condensing machine that was going to be scrapped, John immediately drove down to take a look. The machine hadn't been used in years, but the company left it in place until they needed the space for new equipment. John acquired the machine for Sandstone and are in the process of transforming it into a bourbon and whiskey still.
"It looks like something out of a Jules Verne novel," says John. The large machine fits snugly beneath the ceiling, with just inches to spare. The wood siding and shiny hand hammered copper tanks display the craftsmanship of an earlier era. These machines were made in Chicago for many years and shipped all over the country by train. The Callison factory used this one to condense cascara bark from the 1940s until the early 1970s.
Restoration and modifications have taken time. Old paint was stripped off to show the beautiful copper finish. The inside was media blasted and hand sanded to create a smooth finish that will be easy to clean.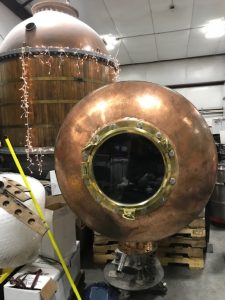 The old condenser piece, which protrudes from the top of the large pot, needed modification to be used as a whiskey head. "We needed access inside to clean it," John explains. "I wanted something that was similar to the manway on the pot." He searched online for used portholes and found a company in Galveston, Texas. "They travel the world and salvage old ships," John shares, and they had just what he needed. "The glass is tempered. It's off an old ship, so it follows our repurpose theme."
They've made their own gaskets because no one makes those anymore. A friend made a support post and hand cut "Sandstone Distillery" into the original metal support ring for the whiskey head.
The Bourdons name all their machinery. This new still has been christened "Gabriel" or "Gabe" for short. It will be set up in all its glory by the end of June 2019, but not yet functional. "We'll need $60-70,000 in sundry pieces and parts, a heating unit, a cooling unit, all these types of things in order to make it functional," says John.
Help Bring Gabe the Still to Life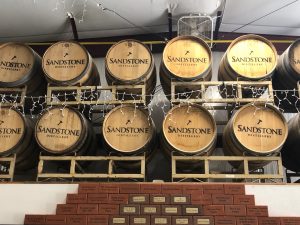 Sandstone is reintroducing its Click-a-Brick fundraiser in support of getting Gabe operational. They will post new videos on their website focused on the transformation. "The art it took to build this, the hand hammer marks, it's amazing the handiwork," says John. "Two halves had to be brazed together with brass. It's a work of art. We're bringing it back to life."
Bricks are available in two styles and prices. A red brick with black lettering is $100. A darker brick with brass plaque is $250. You can choose whatever lettering you want and the bricks will be mounted along the wall of the distillery. "You will be immortalized," jokes John.
Gabe has a large tank and will allow for higher capacity, but even more exciting is the prospect of a tastier product. "It's old copper. It was built in the 40s. There was more nickel and tin in copper back then, and the older copper makes a better spirit than the newer coppers do," John explains. There is an art to the distilling process, but according to John's tastings at other distilleries, spirits made in equipment containing older copper tastes much better.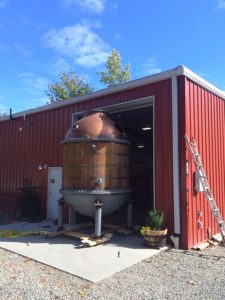 The recipes and local ingredients will remain the same, but the rejuvenated still will enable Sandstone to reach new heights in flavor, though their products are already world-class.. "We'll take what we have and just make it all the better," John assures.
"We just got the results back from the 2019 Seattle International Spirits Awards," he shares. "Everybody is in this thing all over the world. We got three Double Golds and a Silver. Two of them were Best in Show on top of Double Gold for the wheat whiskey and white whiskey. The white whiskey has won a Double Gold four years in a row. It's literally the best in the world."
Rescuing the old condenser that had been in use in Chehalis and retrofitting it into a still is one more way the Bourdons help to retain local history and use local products. As John declares, "Local just resonates in this community."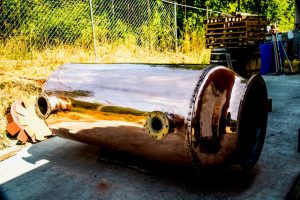 Everything has a story at Sandstone Distillery. The remade still and the bricks commemorating everybody who contributes to making it operational will be centerpieces for a new chapter in Sandstone's business. They will also showcase the benefits and reciprocal nature of "keeping it local."
To Buy a Brick email info@sandstonedistillery.com or go the Click-A-Brick page on their website.
Sponsored