I stood in the upstairs bathroom, applying my makeup for date night. Downstairs, my husband, who was ready to go, waited and joked with our teenager about how long I was taking. "If you don't hurry, they will run out of food," he teased. I glanced at the time on my phone. I wasn't worried about missing our reservation. After all, I'd checked the OneBusAway app, and our Intercity Transit bus was running as scheduled, and we still had plenty of time. I finished applying my lipstick and joined him downstairs. We stepped out the door, and after a short walk we were at our stop. Within minutes, the bus pulled up to whisk us away for an evening together.
We started taking the bus for date night last year. It seemed like a good change of pace at the time, but it's become part of our regular routine. It's so much more fun to enjoy each other's company rather than thinking about traffic and parking. I love the quiet stroll together a couple blocks through our neighborhood, spending a few moments together in the bus shelter talking about whatever thoughts come to mind, and sitting arm and arm while the bus carries us downtown, to the westside or to Lacey for a romantic night without the kids.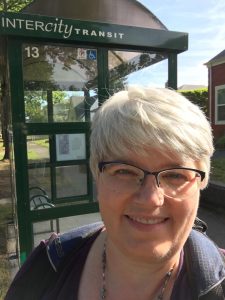 My husband and I aren't the only ones who enjoy Intercity Transit as a comfortable and reliable form of transportation. I've found that there are many others in our area that are regular bus riders too. Since June is Ride Transit Month, I thought it would be a great time to share with you why they ride Intercity Transit Busses too.
Thurston County Commissioner, Tye Menser, is a big fan of public transit. He cites financial benefits and environmental impacts as being major reasons why he finds transit so worthwhile. Transit benefits our community in another way too. "It can be a real incentive to employers to move to our region and create jobs when they know there is a good public transit system," he says.
Transit ridership is popular among the commuter crowd. Sharon Love is a government employee who works downtown. Finding a space and paying for parking every day can be really expensive, she says. "I don't have to circle the block three times looking for parking when I take the bus." Sharon used to rent a parking space downtown or pay at a meter, and she found the expense really added up. "I see a lot of familiar faces on the bus," she adds, pointing out that most of her fellow riders are colleagues or other state workers.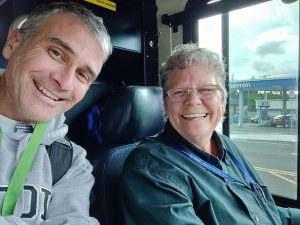 David Bonauto began taking the bus when his teenager started driving as a way to free up a car for her to use. He takes the bus between Olympia and Tumwater to work daily. "The flexibility it gives my family is really valuable, and it is super convenient," he says. David also finds he sees a lot of familiar faces when he rides the bus, being a part of the commuter crowd.
Sue Pierce has been a regular rider for 18 years. She takes the Express route to work in Tacoma every day. "It's relaxing, I can do other things like read, play a game on my tablet or check my email," she says, "I can just do things for myself instead of worrying about traffic on the way to work. I get to work more relaxed, and I get home in a better mood." Sue also appreciates that it saves her money, not putting wear and tear on her vehicle or costing a lot in gas every week.
No matter who I talk to, I hear the same things about Intercity Transit. They tell me how great their drivers are, how taking the bus is relaxing and reduces stress in their day, how easy and convenient it is to ride, and how much money they save. "Before I started riding, I used to make all kinds of excuses about why it wouldn't work for me," says Sharon, "but once I started, I realized just how easy and convenient it really is."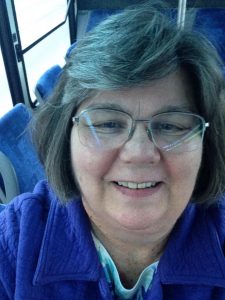 Regular riders may have noticed eight brand new buses have been making their way into the route rotation. The newer buses provide the same great comfort as the older ones, but with better efficiency, as well as some upgrades for the drivers. The new buses, more frequent, and earlier and later trips, as well as more weekend trips are examples of how Intercity Transit is improving the experience for their riders. Look for the new buses on the streets or at community events like the Capital City Pride Parade on June 23, the Yelm Prairie Days Parade on June 29, or the South Sound BBQ Festival on July 13. Intercity Transit is also offering free rides back to designated parking areas after the Lacey Fireworks Spectacular on July 3.
Why do you ride Transit? Head over to the Intercity Transit Facebook page and share a story of 150 words or less about why you ride transit. You could win a $250 Visa gift card or one of 10 monthly passes.
Sponsored