With an exchange between rain drizzle and the sun peeking from behind the clouds throughout the afternoon, local business owners and friends of South Puget Sound Community College gathered for a round at the annual Clipper Scramble Golf Tournament. This tournament is special, because rain or shine, the community shows up to supports SPSCC students, with proceeds benefitting scholarships and other support programs of the SPSCC Foundation.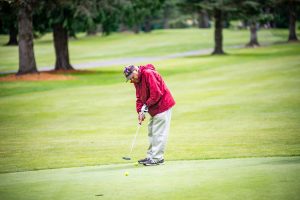 A staple event for the college for over two decades, the scramble is hosted by the Olympia Country & Golf Club. It begins with each team starting at a different hole, and participants golf their way through the course, reaching the game's conclusion when they returned to their starting hole. Throughout the course are student athletes volunteering for the day, a reminder of what the tournament is all about.
"The Clipper Scramble has grown over the years and is SPSCC Foundation's second largest annual fundraiser," says Evan Fagerness, Development Director for the SPSCC Foundation. From the annual scramble golf tournament, every year multiple SPSCC students are offered scholarships. "Proceeds also go to student success, for students who have more emergent needs," explains Fagerness. "Like gas and gift cards, grocery cards, testing funds, anything where a student might have financial needs in between scholarship cycles, we fill in the gaps."
As an SPSCC student and scholarship recipient, Chante Williams volunteered at the scramble, as a way to help future students receive similar student support. "I really wanted to come out and help," says Williams. "It's such a great event and raising money for scholarships, that's awesome. I benefited from it, so why not give back?"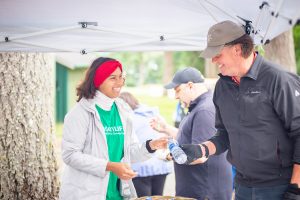 With 140 golfers at this year's scramble tournament, this prominent fundraiser raised upwards of $82,000 this year. "We have community sponsors from all over the area come out and sponsor holes, volunteer, donate gifts and their time," explains Fagerness.
With the goal of helping students to thrive on their educational path, SPSCC and the Foundation seek out connections from those who are passionate about the local college, from long-term SPSCC supporter, Titus Will, to first time premiere sponsor, Olympia Orthopaedic Associates. "We reach out to anyone in the community who would be willing to support us," explains Fagerness. "Since it's been going on for so long, we have a lot of longstanding partnerships, but every year, we try to grow new friends."
For Ben Shah, CEO of Olympia Orthopaedic Associates, the scramble golf tournament is an opportunity to give back to the college while spending quality time with his staff. "For the last several years, we've been supporting the college with scholarships and these types of events, which are really cool to get out and talk to people in the community," says Shah. "We're just out here trying to have some fun and not embarrass ourselves on the golf course."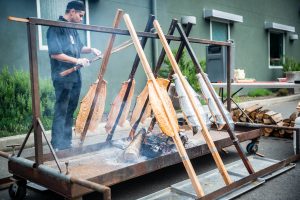 Leaned over an open fire, waiting for the golfers, was an evening meal of salmon, smoked that day at the golf club. Donated by the Lucky Eagle Resort and Casino, the salmon dinner was also prepared by resort staff. As a longtime partner of South Puget Sound Community College, Lucky Eagle often works with the college to cater events and mentor SPSCC culinary students.
To learn more about the SPSCC Clipper Scramble Golf Tournament or want to support SPSCC students, visit the SPSCC Foundation website.
Sponsored