June 8 and 9, 2019, is Free Fishing Weekend in Washington, and if you've never gone fishing before, now is a great time to drop a line in the water and give it a try. Fishing can be an inexpensive hobby that offers great rewards. Besides tasty and healthy fish, fishing provides the mood boosting benefits of being outdoors and spending quality time with your family.

The Washington Department of Fish and Wildlife (WDFW) website is a wonderful resource and a great place to start. Fishing locations are broken down into categories like lowland lakes, high lakes, and marine areas. Within each category, there is an opportunity to search for a specific location, or get a list of all locations in the county. Thurston county has 16 lowland lakes, and the website gives information on each site to include location, a fishing calendar, common species to the lake, and even stocking info. The website also has a section on fishing regulations and other important information.
Anthony Schuman, local fishing enthusiast and parent, encourages others to go out and try fishing. "Get out often," he says. "You can't catch anything until you put a line in the water."
It doesn't take a lot to get started, and because we're in the Pacific Northwest, almost any sporting goods section will carry enough to get you going. A rod, a reel, and some bait are the basics. Add in some other simple tackle like sinkers and bobbers. And while you are at it, pick up a fishing regulation pamphlet and catch record card, both are available for free at sporting goods stores and license retailers across the state. "Don't be afraid to ask people on the lakes or river banks what they are using to catch fish and what they are targeting," says Anthony. "For the most part, people are helpful."
Anthony has been fishing with his daughters, ages 6 and 8, since they were about three years old. He enjoys fishing with them because it allows them more time to spend together. However, fishing with kids is not like fishing by yourself or with other adults. "It is important to remember when fishing with kids, they will not be able to sit and fish for hours," he says. "They need lots of breaks or short trips to keep them interested."
Nate Wolbert, another area angler and parent agrees. "Bring lots of snacks for the kids, and if you are patient and keep trying you will have success," he says. Nate began taking his kids out fishing when they were young too. He credits early exposure to trout fishing, which generally has a shorter time between casting and catching, to getting his son hooked on the pastime. Now, father and son enjoy salmon fishing together from his boat on the Puget Sound.
Several lakes in the area offer shore access for anglers and are great places for newcomers to get started. Also, they have all been recently stocked with fun-to-fish rainbow trout and many offer different native species that you can fish for as well.
Lake Saint Clair
A great location for rainbow trout and channel catfish, there are two access points to fish this lake, each on either side of Rehklau Road SE.
Longs Pond at Woodland Creek Community Park
Fishing is open year-round for children 14 and under at this easy-to-access pond at Woodland Creek Community Park. The park makes a great location to introduce the sport to the youngest tots who will enjoy other amenities like the walking trails and playground equipment.
Long Lake
Check out Long Lake for excellent prospects on largemouth bass, rainbow trout and yellow perch during free fishing weekend. The fishing access point is down Boat Launch Street SE. You should catch your limit here in no time.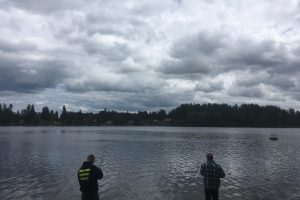 Hick's Lake
Wanschers Community Park provides good shoreline access to this lake where you might catch rainbow trout or blue crappie. You can also fish from the bank at the boat access ramp.
McIntosh Lake
Located between Rainier and Tenino. This lake is easily accessible from highway 507, or from the Yelm-Tenino trail. Check out one of the many spots to fish from the trail, or fish on the north side of the lake from the WDFW access area.
If you plan on fishing beyond free fishing weekend, make sure to get a fishing license. The WDFW has an online licensing system, or pick one up from a local retailer. Also, consider checking out the Fish Washington mobile app, which will keep you up to date on regulations for lakes, streams, and marine areas in the state.
Thrifty Thurston highlights inexpensive family fun in Thurston County. The weekly series focuses on family-friendly activities throughout our community. If you have a suggestion for a post, send us a note at submit@thurstontalk.com. For more events and to learn what's happening in Olympia, Lacey, Tumwater and the surrounding area, visit our complete events calendar.