Hand-tossed pizzas and a friendly atmosphere aren't limited to the confines of the Stone Creek Wood Fired Pizza restaurant. Fresh wood fired pizza dreams can become a reality at any celebration with Stone Creek's traveling pizza truck. Designed by Stone Creek owner, Randy Murray, the pizza truck is equipped with its own wood oven for all pizza occasions.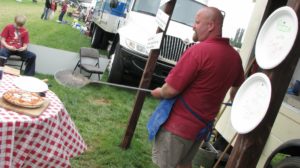 Stone Creek Wood Fired Pizza was originally a pizza truck before opening in its permanent Olympia location in the April of 2018. The idea for a wood fired pizza oven business originated with Randy and his collective history and interest in construction and the technology of historical ovens. During the economic downturn, Randy pivoted from working in decorative concrete to handmade pizza.
"The pizza truck came from his creative mind and talents," says Suzanne Murray, co-owner of Stone Creek and wife of Randy. "It was a culmination of many experiences. He had made small earth ovens when he was a kid. He spent years working in construction and concrete, especially decorative concrete. Randy researched every detail of wood fired ovens. They are a fascinating ancient technology. Then Randy used his knowledge to design and make a mold for the oven, then made the oven and installed it in a truck, then turned that big truck into a self-contained, licensed food truck."
Now that Stone Creek has a permanent home, the pizza truck is free to travel to events. The truck has catered a myriad of celebrations including weddings, birthday parties, and horse jumping shows. When renting the pizza truck for an event, there is ample opportunity to discuss menu options and logistics ahead of time to ensure a delicious and stress-free celebration.
Have Your Next Celebration at Stone Creek
Expanding on the restaurant's permanent site, Stone Creek is also striving to be a place of gathering with a new event center. Slated to be completed in the fall of 2019, the event center will be the home to both private parties and community events.
Located at the back of the restaurant, the new event room is currently under construction. The concrete floor has been poured and the space features an opaque greenhouse roof. With a covering and floor established, the event center is currently being used for restaurant seating. In nice weather, overlooking an expansive lawn, it can also be used for events.
After obtaining the proper permits, the plan is to eventually add walls to the event center so that it is an enclosed space that can be used regardless of weather. In the meantime, Stone Creek wants to utilize the area in the upcoming summer months by hosting events with the outdoor atmosphere. In July, Stone Creek will be hosting a C10 truck show, which will utilize the restaurant's entire outdoor space.
The new event center at Stone Creek is an opportunity for the restaurant to host gatherings that weren't previously possible and will be a new local crossroads where entertainment is coupled with hand-tossed pizza. The finished event center will host live music nights with local talent, as well as having regular comedy nights. The center can also be customized for a private event. Interested parties can book the event center, utilizing both the covered area and the lawn. In addition to birthday parties, graduation, office celebrations or anniversaries the space at Stone Creek can also be used for any kind of class or other event. CPR and first aid classes, craft courses, dog training and even individuals interested in making a wood fired oven for their own back yard can all use the space.
The endgame for the Stone Creek event center is to be a place of gathering in the community, where people can make new friends, find a common bond and celebrate milestones with loved ones. "We would love for our event center to be used by the community to help bring people together," explains Murray. "We love being part of the community and see a need for people to have more opportunities to come together and learn from each other and about each other. To find commonalities and build friendships. And of course, have fun."
To learn more about their menu and rental information, visit the Stone Creek Wood Fired Pizza website.
Stone Creek Wood Fired Pizza
4138 Harrison Ave NW, Olympia
360-888-9500
Tuesday – Saturday: 11:00 a.m. – 9:00 p.m.
Sunday: 11:00 a.m. – 8:00 p.m.
Sponsored