What are clouds made of? And how many different kinds of clouds are there? How can clouds be incorporated into everyday life? Local author Maria Mudd Ruth has spent almost a decade seeking to answer her cloud questions and integrate the beauty and wonder of clouds into her life. Part memoir and part explanation of the natural phenomena so common in the Pacific Northwest, Ruth's fascination has culminated into her most recent book, A Sideways Look at Clouds. Ruth is prepared to share her story at a talk hosted by The Olympia Country & Golf Club as part of their monthly lecture series. She plans to share personal anecdotes of exploring the natural world, as well as encouraging the audience to learn more about the nature that surrounds them.
Prior to being an author, Ruth got her start at the then newly-formed publication, National Geographic Traveler as a fact-checker and researcher. Ruth first fell in love with the Pacific Northwest as she visited the area for potential magazine articles. Always loving the natural world, Ruth's interest in nature led to a book deal when friends from the National Geographic world left the company to open their own publishing firm. Ruth was recruited to write for the new startup, with her first project being a children's book about butterflies. After several more animal books for children, Ruth transitioned to writing non-fiction for adults.
Ruth's first infatuation with clouds came soon after her move to the Pacific Northwest in 2006. "When we moved here, I had just published Rare Bird," explains author, Maria Mudd Ruth. "I was looking around for another book to write and I'm looking at clouds, all the time. All the time. And I realized after a while I knew nothing about them and it was cloudy 228 days a year here. I thought why am I not writing about these natural wonders that I know nothing about?"
Ruth's curiosity grew once she discovered that her friends and family were also cloud novices. She saw clouds as a front row seat to exploring the beauty of the natural world by just focusing upwards. "I became acutely aware of my own ignorance," says Ruth. "And thought it must just be me. Everyone in the Pacific Northwest must be talking about clouds behind my back. I did a survey online and I asked friends, family, what do you know about clouds? I had ten basic questions and I realized, no one knew anything about clouds. There are certain people that need to know, meteorologists, for instance. For the most part, you learn a little bit in grade school, and we learn about the water cycle and learn a few names like cumulus and cumulonimbus, but we really don't know what they look like. We don't really know what they do or what they mean. After grade school, we just sort of forget. I thought, wow, that's so much lost possibility for joy, discovery and curiosity. And there's this wonderful thing going on all the time and we just aren't looking up."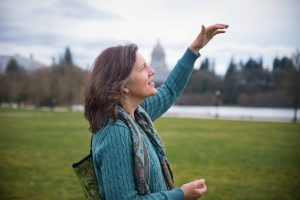 Ruth's education in clouds was not an overnight experience. Her goal was to not just study the characteristics of clouds, but incorporate her experience into a kind of lifestyle, a journey that lasted for eight years. "You can't really write about the clouds without experiencing them and you can't experience them unless you just sit around and wait," says Ruth. "I wanted them to be sort of naturally integrated in my daily life and you can't really force that. How do you learn something you know nothing about? What are they like? What are they doing up there? How do they float? There are all these big questions and I'm going down rabbit holes and I'm realizing all those diversions are the story of how you learn."
In addition to Ruth's reflection and research on clouds, the book is an invitation, a call to action for readers to study the natural world, even as a non-scientist. "We all have maybe a cloud we remember or a time where the clouds behaved in a way that really added meaning to an experience," says Ruth. "We all have those, but we kind of forget about them. I wanted to give readers an opportunity to reflect and join a non-scientist naturalist in this world of discovery."
In preparation for her Olympia Golf & Country Club discussion, Ruth hopes to encourage readers to think of clouds beyond just a predictor of weather. She will introduce her cloud journey and will invite the audience to join, giving them pathways to start their own cloud adventure and the joy that accompanies. "I let the audience know that it's okay to not know anything about clouds," says Ruth. "I encourage the audience to get in touch with that inner curiosity and that sense of wonder that we lose as we grow older when we think we know everything we should know and know how to find everything by looking it up on the internet. When you start looking, appreciative and aware of what's happening over your head all the time, there is this untapped source of joy and beauty."
Maria Mudd Ruth's talk will take place at the Olympia Country & Golf Club at 5:30 p.m. on Thursday, April 18. To learn more about Maria Mudd Ruth's talk, visit the Olympia Country and Golf Clubs Facebook event.
Olympia Country and Golf Club
3636 Country Club Drive NW, Olympia
360-866-7121
Sponsored