It was a just a verbal prod, a simple "It's fun" comment that got Brooke Parsons to sign up. And now she's glad she did.

Last year as a freshman at Olympia High School, a friend of Parsons talked about a club at OHS. The club was Future Business Leaders of America.
"She said it was a great club to join," Parsons said. "She said the leadership experience that she gained was great. She said there were a lot of really nice people. The mentors were just amazing and everyone was so helpful and nice."
And now Parsons is glad she signed up.
"I joined for fun," she said. "That's what inspired me."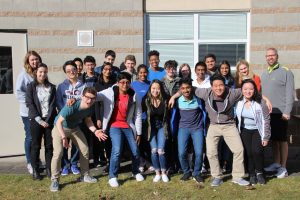 She's not been disappointed. Earlier this year, Parsons placed first at regionals and is heading into the state competition that will be held in Bellevue in mid-April. She's having fun as she's learning. Parsons, and 13 of her classmates who also placed first at regionals, have what it takes to excel at FBLA.
"Brooke is very hard working," said Kelly Boyer, a teacher at OHS and FBLA advisor. "She is friendly and kind and engaged in learning whatever we give her."
When an assignment or a project is assigned, Parsons is eager and ready to dig in. She's always got a "let's get it done attitude," making her a doer.
"Whatever we give her she wants to understand it," Boyer said. "She wants to do a good job. That's an awesome trait for a young person in high school to have because it feels that no matter what we offer her she can't get enough of it."
Parsons' competitive, get-involved attitude isn't unique to OHS's FBLA club, which has 45 kids involved. At regionals, OHS had 13 students grab 23 first-place spots. Pan Andrew, Bahar Bouzarjomehri, Dhanush Sunchu, and Emma Kunkel all took three first-place finishes each.
Olympia students taking two firsts were Ben Kosa and Claire Merrigan. Along with Parsons, OHS students taking one first place at regionals were Aiden Farmer, Annalise Pree, Claire Hood, Daniel Yan, Daul Bae, and Elizabeth Shang.
As a sophomore, Parsons, who competed against 15 students from other schools at regionals, might be expected to have a wait-until-next-year attitude. But that's just not her.
"She's such a hard worker that it doesn't surprise me because when she does things she does a really good job," Boyer said. "And she wants to do well. Anything less than first place in this case, she would have then had something even more to work for. She's just very dedicated to doing a good job."
The objective of FBLA is to "bring business and education together," to develop tomorrow's business leaders, and to prepare students for careers in business, entrepreneurship, and technology. And FBLA isn't a new adventure. For 70 years, FBLA has been around in the United States, reaching more than 15 million students across the country who have found the keys to unlocking the doors to career success. Skip Fabritius, a co-advisor of FBLA at Olympia with Boyer, has helped develop a winning attitude within the club at OHS.
"They want to succeed," said Fabritius, who has taught FBLA at Olympia for 15 years. "The goal isn't just to compete for fun. We have a culture set that the competition is important. And we want to do well."
Parsons is glad she's one of them. Every Friday, the FBLA club at Olympia, which is under the direction of Fabritius and Boyer, meets for about half an hour. That leaves the rest of the week for the studying and the preparation for their presentations that they do in competitions.
Parsons' seven-minute presentation that she made at regionals was a promotion for "Giving Tuesday." She had to make a social media presentation using Instagram, Twitter, and Facebook.
"Basically, the judges would judge me on how well I could do it," Parsons said.
And because of her preparation and the help and advice she got from her teachers and from community businessmen, Parsons did just fine. One of those community businessmen that helped Parsons by critiquing and suggesting was Dan Jones, a successful businessman and owner of ThurstonTalk.
"Dan Jones was extremely helpful," Parsons said. "He helped by giving me like good criticism on how I can make my projects better. He sponsored me too. That was really amazing. I really appreciate that."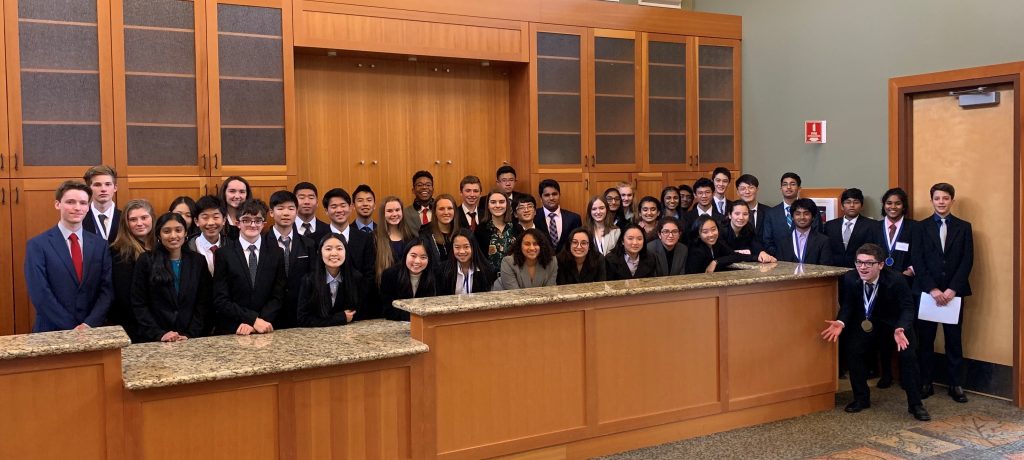 One of things Fabritius has stressed over the last few years is for students to connect with the local business community, developing a relationship. For Parsons, that's how she met Jones, who provided sponsorship and helpful critiques.
Getting ready for that presentation at regionals and state, takes a lot of time, a lot of preparation. But Parsons doesn't mind. Parsons, who said her favorite subject is science, isn't sure yet what her career dreams will bring her. She's not sure what she's going to be yet. But she's having fun now, preparing for tomorrow.
While she does participate in cheerleading, for now, her time and commitment outside of school is to FBLA.
"It's a big commitment, yeah, it's crazy," she said with a chuckle. "There's all my extra curricular. I make it fit."
Among the objectives of FBLA, the club's goals are to develop a "willingness to accept responsibilities and duties." And there's a goal to "improve my community by contributing my efforts and my resources to worthwhile projects." Parsons and her classmates in FBLA have embraced those goals whole heartedly.