Quixote Village is a community of tiny houses for low-income individuals who have previously experienced homelessness. What was once a tent city, traveling between church parking lots, is now a permanent neighborhood where each resident has their own tiny home with heat, electricity, a half bath, and a bed.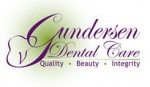 The village experience is complete with access to the community kitchen, shared bathrooms, and laundry facilities as well as daily interaction with staff who can connect residents with resources. There is a resident-built culture of peer support, where they pool their strengths to help each other with daily life.
Reflecting on five years in operation, Quixote Village isn't just a collection of affordable housing units, but a community for second chances and connections uniquely available within the village structure.
Part of the unique structure of the village is the emphasis on peer support between the residents. Because residents are forming friendships with one another, there is an additional layer of assistance and trust that fellow residents can help to take care of each other, even when staff isn't around.
"The community living is so important," says Jaycie Osterberg, Executive Director of Quixote Communities. "It's not like an apartment complex where you don't know your neighbors. I live in an apartment and I don't know that person's name above me. It's very different here. They know each other's strengths and weaknesses and they are always helping each other out."
Residents have developed unlikely friendships that cross generations, abilities, and backgrounds, where they each use their strengths to accomplish tasks. "They have really mutually beneficial relationships," explains Program Manager, Amanda Eichelberger. "Somebody who maybe has more physical ability is helping out somebody who maybe has less. In exchange for that, the person who has more physical ability has less ability to understand forms and navigate bureaucracy. Having a peer that has those skill sets and building those relationships where people are bringing their skills together is key to this model."
The structure of the village also supplies some much-needed stability for residents coming from turbulent and constantly changing living situations. "It's brought me back into being responsible for myself," says Don, a resident of Quixote Village for three years. "How I sleep. Where I sleep. When I sleep. When I was homeless, it was to the point of everyone else's whim, whether I was on a couch, in a spare bedroom, or on a floor. It didn't matter. My car in a driveway, it's all their control, basically. And now, I control that. That's a good thing, because I needed to control it. I should have controlled it then."
The village layout is versatile and there is a social balance between each private tiny house and the community space. "It's good, clean living," explains Don. "If someone's bugging you, it can be a hassle, but you can walk away from the kitchen and be in your home and when you are ready, you can come back. I enjoy it here. I like the way the pods are set up and having my own place. Yeah, it's a little small, but I don't need half the stuff I have in it now. To me, it keeps me a little more social. Otherwise, I might hibernate a little more, which is not always a good thing."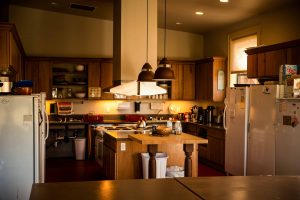 The village infrastructure also allows for residents and staff to congregate regularly and get on the same page about community happenings. Every Wednesday, residents and staff meet for a community dinner where they have a chance to check in and communicate problems that arise through the week. Because basic needs are met and there is more resident independence and input, Quixote Village can be a place to reflect on future plans and a new life chapter.
"People want to take space and step back and look at what's next for them," explains Amanda. "They want to move beyond, 'How am I going to survive today?' and move into, 'How am I going to move toward my goals or toward a future?' I really think it's something this place allows for."
For Bruce, a resident of Quixote Village for two years, having his basic needs met by the village has enabled him to think of new life possibilities. "I'm comfortable, but not fulfilled, because I want more. I've had more," says Bruce. "Some of these people are on the same page, too. They're trying to find something balanced, look for jobs. They're all finding something. There's a couple that don't, but we all have that in society anyway. It doesn't change. It's just the scale. You've got housing, you've got support for housing, you've got food, you've got all the things you need generated right here to help you achieve that next step."
After five years of operation and the evolution of the tiny home community, Quixote Village has established itself as one solution to the complicated cycle of homelessness. "We definitely say this isn't a one-size-fits-all kind of model," says Jaycie. "We are not the answer for homelessness. We are an answer for homelessness. We find this model is really successful. So successful, that we're duplicating it twice. We're opening two more villages and the great thing about that is that when we started Quixote, no one really knew the right design. Now, we have so many lessons learned and we are able to bring that to the design of the new ones."
To learn more about the Quixote Village model, volunteer opportunities and updates on the new village constructions in Orting and Shelton, visit the Quixote Communities website.