When Nicole and Dan Durden began curating items for their shop in downtown Olympia, they wanted to find unique gift items that would help them stand out from the others. "It began as a necessity, looking for niche items so that Sound and Vision Living would have different offerings than what was available in other stores," says Nicole. It quickly became one of the most pleasurable parts of owning the store. "I feel honored to have this array of art in our space and I get to look at it every day." Today, the store vibe is exactly what the Durdens had been looking for, and supports local artists by providing the right outlet for their work. Most of the items in the shop are truly artisan quality gifts that aren't quite right for a gallery and yet too precious for a big box store. Here are just some of the treasures you will find inside Sound and Vision Living.
Laney Clark, Metal Design
Laney Clark has been making metal jewelry for over 25 years. "My mom was an artist and took me to a bronze pour," explains Laney. "When I saw that you can heat metal until it is molten and looks like pink lemonade, I was hooked." She took a metal class at her local parks and recreation and has been creating metal art ever since. The hand sawn nature designs are only available at a few shops, including Sound and Vision Living.
Nicole met Laney at her booth at the Olympia Farmers Market and fell in love with her earrings. "She introduced herself and told me about the vision she had for the store," says Laney. "I loved the aesthetic she was creating and am so appreciative of their support of local artists." Laney knows from personal experience that the area is "teeming with creative people" and while they don't all get their moment in the spotlight, she is honored to count many of them as friends.
Megan LaBahn, Fiber Artist
Megan LaBahn specializes in nature inspired fiber art. Her designs are both beautiful and whimsical featuring quintessential PNW themes like mushrooms, mountains and trees. "I moved here from Chicago two years ago and people wanted me to sell my work locally," shares Megan. "I hadn't found the right spot until a friend told me about Sound and Vision Living, I peeked into the shop and felt like I was in my own living room it was so pleasing to the eye and I knew I had found a home for my work."
New to the community herself, Megan feels like the shop is a new baby being born and she looks forward to seeing it grow and flourish. "Nicole and Dan are amazing people who are truly passionate about what they do," she adds. "We have the same vision and they have made me feel like a real friend."
Laura Burkhart, Wood Design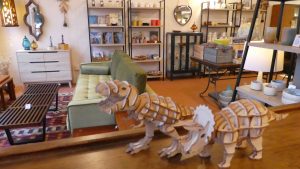 Nicole saw Laura Burkharts's work on a television show and was intrigued. "She built a beautiful custom wooden door for a houseboat and I knew I wanted to carry her work in the store," she explains.
Laura was born and raised in the Pacific Northwest, which inspired her work representing the natural beauty that surrounded her. The wooded starbursts that adorn the walls of Sound and Vision Living are unlike anything I have seen in Olympia. The varying shades of wood in each piece makes a starburst the perfect addition to any style of décor.
With over a dozen local artists in the store from candle makers to ceramics Sound and Vision Living is truly a treat for the eyes. Every direction you look there are treasures, from the carefully chosen furniture to the original art from William Cummings. A northwest master, William's widow has made many of his original drawings from the 1960s available for sale at Sound and Vision Living.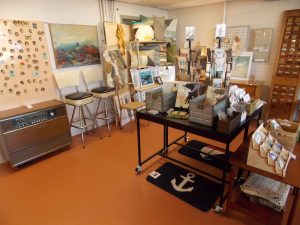 An interior designer by trade, Nicole is able to not only fill her store with beautiful and unique items, she can help customers decide which ones will fit into their home design. Unlike many conventional home goods stores crammed with lots of stuff, Nicole and Dan carefully choose what they feel meets the needs of their customers. "We are always on the lookout for new artistic talent," says Nicole. They both purchase art and display on consignment, so there are flexible ways that artists can find an audience through their store. With easy on-street parking right out front there is no reason not check it out. For more information, visit the Sound and Living website.
Sound and Vision Living
721 4th Avenue East, Olympia
360-678-3209
Sponsored