Typically, the groceries bought at Spud's Produce Market are used around the plate. They have bread, vegetables, fruits, grains, condiments, beer and wine, all the components that make up a great meal. With the opening of their second location, Spud's Produce Market sparked a partnership with Olympia Seafood Company, expanding their offerings for main dishes.
The beginning seeds of this partnership were planted long ago. Dave and Karissa Jekel, the owners of Spud's Produce Market, first met Tony and Kira DeRito, the owners of Olympia Seafood Company, because of their children.  "My kids and their kid went to the same elementary school, so we would see each other at all the school events and then we got to talking because we are both small business owners," shares Dave. "I would shop at their store and they would shop at mine, so we began to build a friendship over many years." Dave adds that he would frequently bring up the idea to Tony and Kira about packaging up some of their products for Spud's Produce Market to sell. Because of the original market's close proximity to Olympia Seafood Company, it made most sense for customers to go downtown to get their seafood.
When the second location for Spud's Produce Market was getting ready to open in Tumwater, Kira and Tony decided to offer their products at the new store. Making Spuds Produce Market II the first store to ever carry anything from Olympia Seafood Company. "When opening day came, Tony walked in with tubs full of prawns, chowder, shrimp cocktail cups, crab cakes and salmon cakes," says Dave. Without knowing what the turn out would be for opening day, Dave and the Spud's Produce Market team were happily surprised that everything from Olympia Seafood Company was a big hit. They had completely sold out by the end of the day.  Because of the positive response Spud's Produce Market II received from their customers, they decided to launch the Olympia Seafood Company products in both stores.
Local Seafood Served Fresh
If you are not familiar with Olympia Seafood Company, they are a small locally owned business that has been in downtown Olympia since 1999. "My dad and two brothers are commercial fisherman out of Westport," shares co-owner Kira. "So that's kind of how we got started, by selling crab in the area and then we eventually expanded to have a full-scale retail seafood market. The last couple years we have started doing grab-and-go items and prepared food items like crab cakes, salmon burgers and shrimp cocktails, so that is mostly the type of thing we will have for Spud's."
Kira shares that Olympia Seafood Company exclusively deals in local, sustainable seafood. "We have always used the Washington State Fish and Wildlife definition of what sustainable is, which is just a harvestable surplus," she shares. "We don't carry any farmed salmon and we don't switch over to fresh farm salmon when the fresh wild salmon are out of season. Currently, we have a previously frozen wild salmon that is of excellent quality. We go that route instead of something that may sound better on paper but when you dig into it a little bit is not actually something you would want to consume or support."
Kira and Tony work to support local fishing businesses as much as possible, ensuring that they always know where their products are coming from and that they are the highest quality. They have long standing relationships with the local shellfish companies, the local tribes and the fishing business run by Kira's family.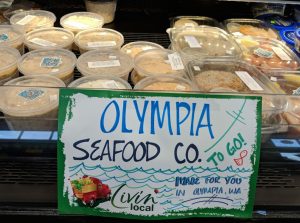 Both Spud's Produce Market and Olympia Seafood Company share a similar business philosophy. They offer a smaller selection of very high-quality products, have a diversity in price ranges accessible for different budgets, are conscious of their footprint on the planet and work to support other small businesses. It seems only natural that the two have teamed up to further their complimentary missions.
You can find the Olympia Seafood Company items at both of the Spud's Produce Market locations. The items are currently being delivered multiple times a week. Dave shares that as Spud's Produce Market gets a better idea of what exactly their customers want, they will refine which seafood options they carry.
Spud's Produce Market
2828 Capitol Blvd S, Olympia
Monday – Sunday: 9:00 a.m. – 7:00 p.m.
360-915-9763
Spud's Produce Market II
804 79th Ave SE, Tumwater
Monday – Sunday: 8:00 a.m. – 7:00 p.m.
360-764-8915
Sponsored