The Hood Canal is known for the waterfront views, serene hiking trails, and fresh-caught seafood. On top of all of this, the area is quickly becoming a hub for local entertainment. From live music to original comedy, the Hood Canal is a hot spot for visitors of all ages to take in the sights and sounds of a locally crafted performance.
Robin Hood Village Resort
The first stop on the tour of Hood Canal entertainment is the Robin Hood Village Resort. This sprawling waterfront resort specializes in bringing live music to the shores of the fjord. Friday and Saturday nights after 8:00 p.m., the resort hosts a variety of local music acts including Seattle based folk singer Andrew Norsworthy and pop-country singer-songwriter Kaitie Wade. Along with established acts, newbies to the music scene hit the stage on Wednesday nights at 7:00 p.m. for the weekly Open Mic Night. Enjoy the sounds of the local music scene or even take the stage yourself for an unforgettable performance during your visit at Robin Hood Village Resort.
Lucky Dog Casino
Just south of Hoodsport, the Lucky Dog Casino provides gaming and entertainment experiences every day of the week for adults over age 21. Wednesdays, patrons can take part in "Win More Wednesdays." Promotional "Lucky Bucks" can be earned to expand on possible winnings at the gaming tables giving patrons the opportunity for fun and cash prizes. Along with the excitement on the gaming floor, there are often entertaining musical acts, magnificent magic shows, and live sporting event watch parties to enjoy. Be sure to check out their events calendar for the latest show information to plan your next visit.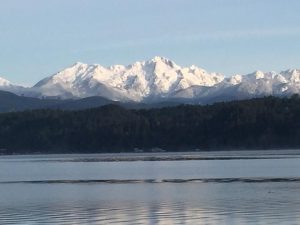 Alderbrook Lounge
Best known for a relaxing getaway to unwind, the Alderbrook Resort & Spa offers entertainment opportunities for visitors all year long that will pack a punch. Every Friday, the Alderbrook Lounge has live music starting at 8:00 p.m. for adults. Local artists from multiple genres are queued and ready to play for audiences every week. These acts are usually accompanied by a sensational Double Happy Hour to kick off the weekend right. Special acts and events are also on the calendar surrounding holidays including a Saint Patrick's Day paddle race on the canal with a lively party afterward that is sure to be hit.
Timberland Regional Library
Looking to entertain the whole family? Check out the Hoodsport Timberland Regional Library. Along with their selection of literature and movies for check out, the Hoodsport location offers a monthly Family Movie Matinee on the second Saturday of the month at 11:00 a.m. Recently released family movies are played on a large screen for the enjoyment of all community members. The library even provides buttery popcorn for the perfect movie snack!
Great Bend Center for Music
Making music to build community is the key to success at the Great Bend Center for Music. While both an institute for research in community music and a performing arts organization, this Hood Canal-based group focuses on bringing music to their rural community. With visits to Carnegie Hall and critically acclaimed performances, they give community members the opportunity to watch and listen to quality musical performances. These performances include family-friendly sing-a-longs, themed choir concerts, and even the opportunity to join a choir ensemble or learn new singing techniques. Most events are offsite at local churches and community halls. However, their choirs have been known to play a little closer to home at the Alderbrook Resort & Spa. These family-friendly events help to immerse community members of all ages in the sound of music.
With so much to see and do, it is obvious why the Hood Canal has become not only for those that worship the outdoors but also a must-see for local entertainment.