A trip to downtown Olympia's Hands on Children's Museum is sure to bring out the kid in everyone. And it is the perfect setting for South Sound Parent to Parent's Champions of Courage family-friendly fundraiser.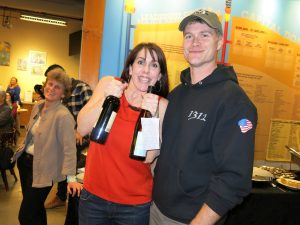 The sixth annual fundraising event will be held on Saturday February 23 from 6:30 p.m. to 9:30 p.m.  At this unique family evening, all the exhibits will be open, and children and adults are encouraged to play.  "There will be a live auction with a professional auctioneer, a silent auction, as well as some fun things like the wine grab and the grub grab," says Sheila Kavanaugh, development director for South Sound Parent to Parent. There will also be a face painter and a photo booth. Guests can enjoy some delicious appetizers provided by Elyse's Catering,  and purchase wine, cider and beer at the bar.
South Sound Parent to Parent provides whole-family support for families with children with special needs throughout their lives. They serve families throughout Thurston and Mason Counties and provide a number of programs to assist the community in a variety of ways. Annually, South Sound Parent to Parent assists 3,500 individual families within the two-county region. "Having a child with special needs can be isolating, and it is important that no one goes without support and the help that they need," says Sheila. "We want the community to be aware of the services we have available."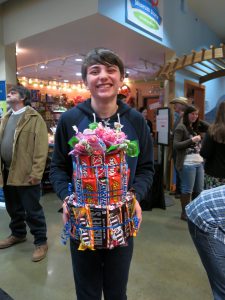 All of the funds raised at the Champions of Courage fundraiser will directly support the Helping Parent program. Each year, public support for the fundraiser has grown. Last year, with the help of the community, South Sound Parent to Parent raised nearly $25,000. This year, their goal is $30,000. The increased public support at the Champions of Courage fundraiser is integral to the program, which is also funded through government funding and a variety of grants. Over the past few years, government funding has been drastically reduced, so the fundraising event is especially important to fill the gap.
The Helping Parent program encompasses a number of services accessible to families caring for a family member with special needs. The service provides one-on-one parent matches where parents are connected with someone that also has a child with similar needs. This can be helpful in coping with frustrations and challenges that come along in life that friends or extended family may not fully understand. Other components of the Helping Parent program are monthly support groups that enable parents to connect to a wider network of parents. Social events are also a part of the helping parent program. Connecting whole families together to form a network of support at social events in a more relaxed atmosphere, like an upcoming event at Skateland Skate Center, provides opportunities for families to make connections.
The Helping Parent Program also funds the Friendship Club for kids ages 3- to 8-years-old that can use support gaining social skills and interacting with others in an environment outside their home. And it funds the Sibshops, a support service for siblings of kids with special needs, which meets on a monthly basis to share commonality, both struggles and joys. Sibshops give siblings a chance to share their feelings, as well as take part in fun activities and crafts.
Another level of support are the educational opportunities offered for families and professionals in the community. From townhalls with representatives available to help set up paperwork, to Circle of Security parenting classes, which is based on attachment for families with younger children, the educational opportunities round out the services funded by the Champions of Courage fundraiser.
Tickets for the Champions of Courage fundraiser are just $15 per adult and are on sale now online. Or purchase tickets at the door. Kids up to 18-years-old are free with supervising adults and encouraged to attend. Get your tickets, mark your calendars, and plan to attend this worthwhile event to show your kids how fun it can be to help others. For questions, call South Sound Parent to Parent at 360-352-1126
South Sound Parent to Parent
2108 Caton Way, Olympia
Sponsored