February is African-American History Month and with it brings opportunities to learn more about the African American people who have helped shape our country and our community here in Thurston County. Celebrate musical innovations with local band MonkFlower; hear about the lesser-known African-American historical figures from renowned historian Dr. Quintard Taylor; and explore local sites. Here is a list of events and activities to help you observe African-American History Month this year.
*  Indicates family-friendly events and activities
Black History Presents Performances by MonkFlower and guest bands
Rhythm and Rye
311 Capitol Way N., Olympia
9:00 p.m. – 1:59 a.m.
Cost: $5 at the door
21 and older
Tuesday, February 5: New Orleans night
Thursday, February 7: The Music of J Dilla
Thursday, February 21: Funk/Disco/Soul night
Tuesday, February 26 Womxn's Night
Black History Presents is a series of concerts that show respect to the history of African-American influences on the development of American history and music. MonkFlower is a contemporary jazz fusion group who seamlessly floats between funk, jazz, hip-hop, and neo-soul. Hosted by Harrison Hannon, drummer of MonkFlower at Rhythm and Rye, expect unexpected guests, infectious beats, and transcendent jams for your listening pleasure.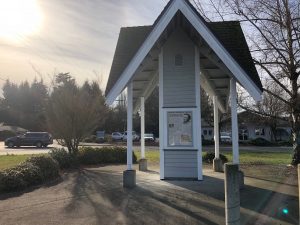 Visit Bush Family Informational Park*
Bush Family Informational Kiosk 
Old Highway 99 SE and 88th Ave SE, Olympia
Another small park at the corner of Old Highway 99 SE and 88th Ave SE tells the tale of George Washington Bush and his family as they trekked across the Oregon Trail and their accomplishments as some of the first settlers in Washington State. The informational kiosk was designed to reflect the architecture of the Bush family farmhouse, which once stood nearby.  Read more about the Bush family farm.
Dr. Quintard Taylor Talk on African American History in our Region
The Schmidt House
330 Schmidt Pl SW, Olympia
Thursday, February 7, 2019
12:00 p.m. – 1:00 p.m.
Cost: Free
The Olympia Tumwater Foundation is privileged to host a presentation about the broader aspects of African American history in our region by retired University of Washington professor, Dr. Quintard Taylor. Taylor has written numerous books and articles on African-American history. In 2004, Taylor created an online website resource center for African-American history called BlackPast.org, which contains an amazing array of information from encyclopedia-type entries and audio and video recordings to first-hand accounts of important events.
Celebrate Peace and Inclusion at the Olympia Peace Choir Performance*
The Olympia Center
222.Columbia St NW, Olympia
Saturday, February 9, 2019
11:00 a.m.
Cost: Free
Join the Olympia Peace Choir at The Olympia Center for a late morning performance filled with songs about being connected, dreaming big dreams, and staying the course for peace. The concert isn't specifically themed toward African-American History Month, but social justice and celebrating the connectedness of all individuals is a big part of the choir's mission.
Visit Isabella Bush Park*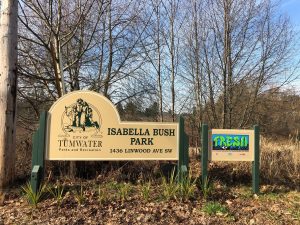 Isabella Bush Park
1436 Linwood Ave SW, Tumwater
Walk a short path and view the wildlife at newly formed Isabella Bush Park. Named for one of the founders of Tumwater, the park hosts the Tumwater Fresh Farm , which is a high school program designed to teach kids agriculture, community service and leadership skills. Those are all qualities Isabella Bush and her family held in spades.
Shadows, Blood and Love: A Tribute to George and Isabella Bush



Washington State Capitol West Campus – Sunken Garden
415 12 Ave SW, Olympia
Saturday, February 9 and Thursday, February 14, 2019
12:00 p.m. – 2:00 p.m.
Cost: Free
Alexandria Ridley and two other presenters will tell the stories of pioneers George and Isabella Bush and their son William. Stories will focus on the love between the couple, their family, and their friends. Accounts of the Bush family experiences show its okay to love and move beyond racial boundaries.
Assembly of Black Americans
Washington State Capitol Legislative Building, North Steps and Rotunda
416 Sid Snyder Ave SW
Monday, February 18, 2019
12:00 p.m. – 1:00 p.m.
Cost: Free
A large group of people will gather, including several speakers, to advocate for racial equality.
Children's Storytime Reading of I Am Martin Luther King, Jr.*
Barnes and Noble
1530 Black Lake Blvd SW, Olympia
Saturday, February 23, 2019
11:00 a.m.
Cost: Free
Join Barnes and Noble for their biography kid's book series as they read  I am Martin Luther King, Jr., a biography about Dr. Martin Luther King, Jr., an inspiring leader who had a dream of peace and love for all children everywhere.
Check out the Rebecca Howard Mural*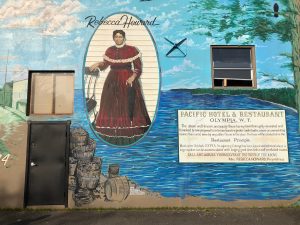 Rebecca Howard Mural
222 Capitol Way, Olympia
Check out the Rebecca Howard mural in downtown Olympia and learn about Rebecca and Alexander Howard. The couple owned and ran the successful Pacific House Hotel and restaurant in the late 1800s. The hotel used to stand in what is now a parking lot in downtown Olympia next to the mural.
Read More About It*
Browsers Books and every branch of the Timberland Regional Library will have really good book displays that highlight African-American history, literature and authors. Drop by your local bookstore or library to explore the book displays and find reading materials. Library staff and booksellers love to help find your next great read, so don't hesitate to ask for help or recommendations.