For every happy couple, the vision of their new life together begins with a picture-perfect wedding. But the stress of planning this momentous event can turn dreams into nightmares. Whether you are planning a small, simple affair or a grand gathering with hundreds of attendees, Shannon Close, event coordinator for Alderbrook Golf and Yacht Club, has some tips to help you plan your wedding and avoid some of the major headaches that can get in the way of your perfect wedding day.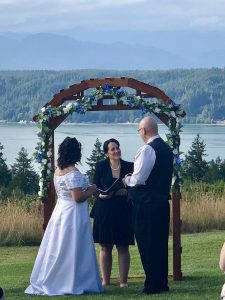 Get Help
You have two main options when it comes to an event coordinator, or wedding planner as they are sometimes called. You can go with a full-service event coordinator or a day-of coordinator. A full-service coordinator will be with you from beginning to end, helping you book the venue, catering, arranging for décor and flowers, and much more.
A day-of coordinator's roll is more short term. Usually beginning their major involvement within the week of the wedding, they ensure everything you have already booked, from catering to flowers to music, gets set up on time, just the way you planned it. Like a full-service coordinator, they also keep everything going according to your itinerary, arranging announcements, and handling any last minute adjustments to keep things running smoothly.
If you don't wish to hire a professional event coordinator, Shannon recommends that you designate a trusted friend or family member to serve as your event coordinator for your special day. Some brides or grooms think that they can handle their own event coordination, but having someone else in charge really takes the stress off before and during the event. Ideally, this trusted friend or family member should not be a part of the wedding party, so that they can be available to oversee everything happening at the event, even when they wedding party is pulled away for things like photos or other duties.
Lock Down the Date and Pick the Venue
Setting the date for your wedding is the first thing you want to do. As soon as that is decided, get an idea about the size of the wedding you plan to have, and start a guest list up right away so that you can send out save the date cards to everyone you plan to invite.
In conjunction with picking the date and starting the guest list, you need to pick a venue. Your venue will probably be the largest expense during your wedding, and there are some big considerations that come with it, like deciding if you want an indoor or outdoor wedding and reception.
Off-season weddings—usually anything before Memorial Day or after Labor Day—can reduce costs considerably, especially when it comes to booking the venue. Early May and late September still offer beautiful weather, at reduced prices. Go earlier or later than that, and you could find your venue costs slashed in half. The exception is, of course, December, when costs are about the same as summer, and you may find yourself competing with holiday parties as well as other weddings for venue spaces.
Always plan for bad weather. No matter the season, if it doesn't rain, the sun could be oppressively hot. "I always recommend a tent for any outdoor wedding," Shannon says. "If the weather is perfect, you can always move more of the event out from under the tent, but if it isn't, you'll be glad the tent is there." A tent large enough to accommodate everyone seated to eat is the minimum size Shannon recommends.
Guest List RSVPs and Planning the Menu
Next, start planning the menu and getting formal invitations sent out, says Shannon. Keep close track of your RSVPs so you can give a good estimate to the caterer. Dietary restrictions like allergies can be accommodated by either restricting particular ingredients from the menu, or by preparing special meals separately.  Venues with onsite caterers usually have more flexibility with small last-minute adjustments like adding an additional plate, buy try to have a solid count early on to keep stress levels to a minimum, she adds.
Stay Ahead of the Game
"Anything that is coming from out of town should arrive early," Shannon says. Planning in that extra time can alleviate stress caused my shipping delays or mishaps that happen en route. In one instance, Shannon says a wedding cake was being shipped in from out of town. The cake fell apart in transit. Because it arrived early, the kitchen crew at Alderbrook was able to perform last minute cake repairs and store the cake safely in the kitchen refrigerator until the reception. Many venues have refrigerators and storage space for things coming in early. Check with the venue to see what they offer.
Do It Yourself (DIY) weddings are all the rage right now. Doing as much work ahead of time will prevent you from burn out the night before your wedding. Don't be afraid to delegate tasks or ask for help. Table décor, signage, and favors can all be prepared months ahead of time. By getting started early, you'll have time for a plan B if something doesn't work out.
Don't Skip the Rehearsal
What may seem like a mere formality is an important key to make sure everything goes off without a hitch. The rehearsal provides an opportunity for everyone to familiarize themselves with the procedure, and see how everything will work at the venue. Plan to have as much of the full wedding party there for a good run-through. If you have a day-of coordinator, the rehearsal is the perfect time to ensure that you and your coordinator have a meeting of the minds and share the same vision of your special day.
Plan the Cleanup
The last thing a happy couple wants is to find themselves staying late at their own wedding to clean up, but that's what can happen if you fail to plan the cleanup ahead of time. It can be as simple as designating a group of people that will stay to make sure the cleanup is complete or hiring someone to handle the chore. Gifts, decorations, and leftover cake: everything brought to the venue must leave at the end of the event.
The Alderbrook Golf and Yacht Club serves as an ideal location for the wedding of your dreams.   Surrounded by the natural beauty of the Pacific Northwest, the course features a manicured park like setting, and offers an indoor venue that comfortably seats 200 guests, provides on-site catering and a wedding officiant. Give Shannon a call at 360-898-2560 to find out everything Alderbrook Golf and Yacht Club has to offer.
Sponsored