The holiday season is coming and Tipsy Piano Bar is ready. Tipsy has been getting busier and busier since opening their doors last August and the holiday season is ramping up. Anyone visiting the bar in the evening knows it always feels a bit like a celebration. Center-stage sits a pianist at a baby grand piano, there are friendly regulars, great handcrafted beverages and terrific southern-inspired food. Recently, Tipsy extended their hours to include lunch so you can enjoy many of your favorite dishes in perfectly sized lunch proportions.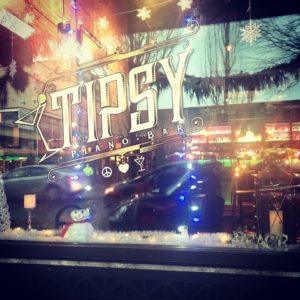 Over the next few months, co-owner Jonas Rodriguez expects to be building a solid lunch crowd as well as hosting holiday work parties. "We already have people coming in asking about reservations for holiday lunches," says Jonas, "or as a place for their meetings. And it makes sense, this is such a great, relaxing environment." He is absolutely right, the lighting, the crimson and brick walls, the intimate seating with room to mingle, it all feels comfortable. That easy-going attitude all starts with Jonas's crew and filters right down to the experience of patrons.
"You see people here talking and laughing that have never met before," says Jeremy Hopkins, Tipsy general manager, "and I see that all the time. You end up hanging out with people besides just your friends."
"Definitely," adds Jonas, "and when the piano is playing and people are all having fun – it really becomes a happy time." Expect that same sense of camaraderie to be especially prevalent this coming holiday season. "We keep it festive," says Jonas, "and we work to make it a better holiday for the community too. Like the Turn up for Toys fundraiser, that is all Jeremy."
Turn up for Toys – Donations Stay in the Community
Back before his Tipsy days, Jeremy was a hip-hop emcee working in clubs around town. He saw a need and launched the first Turn up for Toys event four years ago, then brought it to Tipsy last year. "This is its fifth year," says Jeremy, "and it just keeps growing. When I started it, I really wanted it to benefit the kids less fortunate in our community. So, I did some research and discovered the Family Support Center."
Jeremy met with the staff and learned about their many programs. The Family Support Center of South Sound assists families dealing with homelessness and poverty. "I saw what they do in the community," he adds, "and I really wanted to make sure the proceeds stay here. So, I have been working with them for the past four years."
"A number of years ago Jeremy came in with a slew of brand-new toys," says Natalie Skovran, deputy director for Family Support Center of South Sound. "I asked him how this came about, and he talked about his Turn up for Toys event. Since then, every year, without fail, Jeremy randomly stops by the office with toys for children and families. It reaffirms how amazing our community is, how thoughtful people are, and how they want to give back in various ways. We appreciate Jeremy and his annual Turn up for Toys event."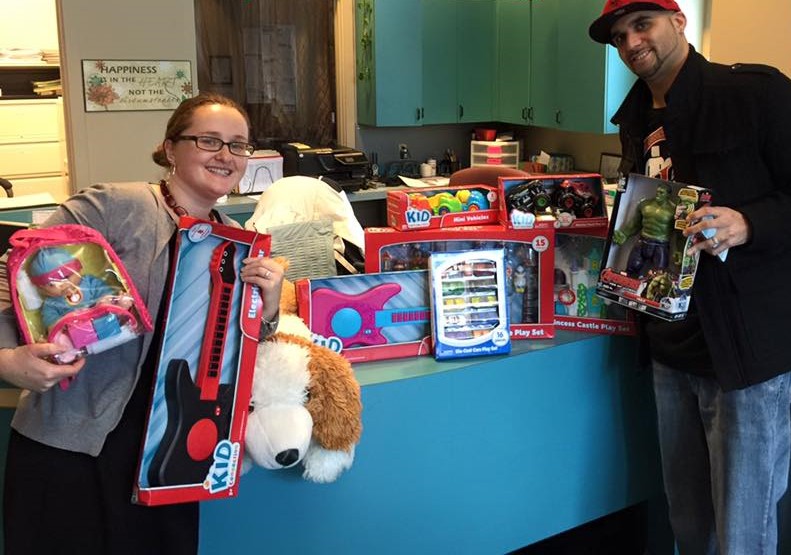 Last year, Jeremy was able to raise well over a $1,000 in toys and cash. This year, with the help of Tipsy patrons, they hope to bring in even more. They are planning a special night featuring three popular Tipsy performers for the event.
"This year we have Angie Swan, Charlie Saibel, and Michael Larson," says Jeremy. "They will each play for about an hour and a half. Each of them has a completely different style, so it will be a great night." Expect everything from bluesy rock-and-roll, some hip hop, pop, maybe even a choir appearance. It is going to be a night of music and goodwill.
"Last year we had cash donations too," says Jeremy, "so my wife took our kids out to do the shopping for me, it worked out great and they really picked some great toys. Who knows toys better than a kid?"
Cash donation or a toy, it is all for a good cause. Bring either to their Turn up for Toys on Saturday, December 15 and you will be rewarded with a free dessert. It's a sweet deal all around.
Food Drive
If you can't make the Turn up for Toys, you still help out the community. Visit Tipsy any day before December 14 and bring five cans of food or other non-perishable food item for donation to the Thurston County Food Bank . Tipsy will reward you with 10 percent off your bill. This is the second year that Tipsy will help out the food bank and they hope to keep the momentum going.
"My wife, Jenna, and our business partners, Jerry and Melissa Antonelli, we are all looking forward to this season," says Jonas. "We see it is a chance to give back to the community. We are still getting established so, as we are growing, we are giving back as much as we can."
Giving back also means taking good care of your staff. "New Year's Eve falls on a Monday this year," explains Jonas, "and we are usually closed Monday. Last year we had a big bash but this year, we are letting the staff have a day off. They really deserve a day off."
Make your Reservation for the Festivities
Season specials will be on the menu and Chandra, Tipsy's lead bartender, has already been experimenting with festive, new recipes. You can call Jeremy directly to book your company party or special night out. Reservations can also be made via Facebook messenger. Be warned, Tipsy gets busy on the weekends, they want to make sure they have a spot for you so call ahead.
Tipsy Piano Bar
514 Capitol Way S., Olympia
360.915.7181
Tuesday – Sunday: 11:00 a.m. – Close
tipsypianobar@gmail.com
Sponsored