Last winter, Lieutenant Rich Chatman and Deputy Yahaira Mendia were on one of their morning school patrols when they noticed teachers running frantically around an elementary school yard. A boy was missing. The teachers pointed to the direction the boy was last seen and the two set out in their patrol car to search for him. When they found him, it was obvious he needed help.
"He was mentally challenged," recalls Chatman, "and he was curled up on the ground in the fetal position next to a car."
"All he had on were his pajamas and a coat," Mendia adds. Chatman nods his head in agreement, "And we could not calm him down or coax him off the ground so we had to call the Sheriff." Within ten minutes the boy's family was at the scene and able to help the boy home.
Chatman and Mendia are not your average law enforcement officers. They are volunteers for the Community Service Unit, CSU, of the Thurston County Sheriff's Department. You have probably already seen CSU volunteers and not realized it. But look again and you will see Volunteer emblazoned on the sleeves of their uniform and across the doors of their patrol vehicles.
CSU Lightens the Load
The good these volunteers do for the community is immeasurable. The Thurston County Sheriff's Department is the most understaffed per capita in the state of Washington and in the first nine months of 2018, CSU had already logged over 2,300 hours. Those are hours spent patrolling Thurston County and responding to the non-criminal activity that frees up the Sheriff's Department to attend to more serious matters.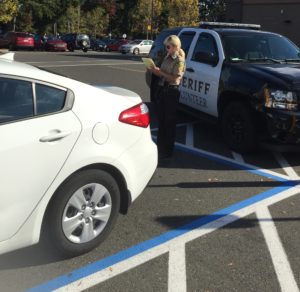 "It's often preventative," says Sargent Dave Odegaard, program coordinator for CSU, "the schools are our biggest emphasis, but this team, they do a lot. When the Sheriff's Department has so many calls, like the last two days, you spend your whole day just going from call to call. So having the lesser impact situations handled helps a lot – traffic too, all the parades that go on in the county, we don't have the budget for those, and that is part of what CSU does."
Eyes and Ears
Need your house checked while away on vacation? Want to organize a Block Watch group for your neighborhood? Host a public safety or crime-prevention presentation at your child's school? Those are just some of the many jobs the CSU team performs in the community. They also monitor and write citations for handicapped parking spots, keeping them accessible for those who need them. And if your organization calls in the National Center for Missing and Exploited Children to provide IRIS Scans for children, they will most likely be the ones to help with that too. The list goes on. But by far, keeping an eye on schoolkids is at the top of their list.
"I spend most of my time patrolling," says Chatman, "mainly checking on the schools. We do about 12 to 13 drive-by patrols daily and it is almost always just preventive." Almost. Earlier this year, Chatman responded to a call where two students were threatening to "shoot up the school." As a law enforcement volunteer of more than 11 years, Chatman took the threats seriously and the two students were soon taken into custody.
"Safety is always my major concern," says Odegaard of the incident. "There always have to be two people to a team. They are our eyes and ears and are a representative of the department and interact with the community. And if they hear of anything going on, at a school or wherever, we will go out and make the arrest."
Helping the Community
Chatman started volunteering in Lacey back in 2007. While there, he began a back-to-school backpack program for local schoolchildren who could not afford school supplies. The need for this program has grown over the past several years. "Each year we exceed our goals," says Chatman, "this year we said 120 and it came to 130. Next year we may be looking farther south, maybe Rochester, to help those schoolkids out."
Volunteering
If you think that the requirements to become a CSU volunteer are stringent, you would be right. "Our standards are high," says Captain Greg Young, "and we require good physical health and a background check. This is our quiet time with events in the community so a good time to volunteer."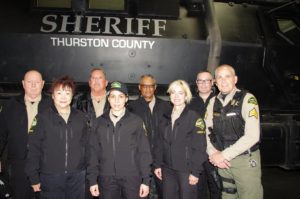 The time-commitment is 16 hours a month which includes patrolling, administrative work, training and meetings. The Thurston County Sheriff's Department provides the uniforms, equipment and training.
Though it is a tightknit group, Odegaard acknowledges that home life is paramount. "Families come first," he says, "we do a lot of good work and we like to have fun but your family is the most important. This is a great group to work with."
How to Join
For more information on CSU and becoming involved, you can contact the Thurston County Sheriff's Department, and Sgt. Odegaard directly, at 360.786.5525 or you can email him at odegaad@co.thurston.wa.us. If you want to visit their website and get more details, you can read all about CSU and download an application here.
Sponsored