Teeth are not the only focus at Gundersen Dental Care. While oral health is at the center of what they do, the staff emphasize caring for the needs of patients and strive to make a trip to the dentist a relaxing experience. This begins with the atmosphere they create. The waiting room has a living room-esque feel with warm lighting, soft music, a Keurig, comfortable chairs, magazines and beautiful photography that decorate the walls. From the moment you enter Gundersen Dental Care you will be greeted with a warm welcome and encouraged to make yourself comfortable.
The anxiety that can develop as one makes their way from the waiting room to the exam room is no secret to the team at Gundersen Dental Care. They work to bring the relaxing environment from the waiting room into the rest of the dental appointment by first acknowledging the fears associated with dentistry. "Being sensitive to people's discomfort is an important attribute for a dentist to have," Dr. Arne Gundersen shares. "I think that is one of the things that is an asset for me, I have done a lot of ministry work with people and I have always been one who is very empathetic and compassionate to how people feel. I actually have staff that are more compassionate than I am, which is great! So, when I am not being as empathic as I should be they fill in and ask patients how they are doing."
Gundersen explains that fears associated with going to the dentist are not a choice and often come from past traumatic experiences. "One way a person feels nervous coming to the dentist is because they feel like they won't be in control," he shares. "Maybe they have experiences from childhood where the dentist has said 'no you can't be hurting' or they were ignored." Gundersen and his team place control back in the patients' hands. They invite patients to raise a hand any time during the appointment to signify a question or concern. They will then pause the procedure and attend to any needs. The team also encourages questions and thoughtfully explains everything from the dental procedure to the expenses covered by insurance.
Art as Comfort Therapy
Gundersen believes that another way to create a more welcoming and relaxing dental environment is by sharing about himself and what he likes to do. Upon visiting Gundersen Dental Care, it will be no secret that Gundersen is an outdoor enthusiast. Adorning the walls, ceilings and monitors of the dental office are photographs of mountains, sunsets, snow covered trees and waterfalls, 90 percent of which were taken in Washington State by Gundersen himself. Gundersen's intention to share his photography with his patients goes deeper than being something beautiful to look at. "It helps to create an environment that's not just medical" he explains. Many of the images are screensavers on the monitors, providing the patient with something to focus their attention on instead of worrying about the dental procedures to come. Gundersen's photography also serves as conversation starters. Sharing stories about his adventures is a way to form connections with his patients beyond their oral health.
Gundersen and his team are continually working to adapt their dental practice to the unique needs of each patient. They offer alternative methods, will provide nitrox when needed and offer blankets for added comfort. Their efforts to create an environment that is welcoming, supportive and relaxing have not gone unnoticed. With 111 Google reviews and a five star rating, Gundersen Dental Care is exceeding in their efforts. In one review a patient shares, "I have such fear & anxiety when it comes to the dentist. I had my first appointment here & felt so well cared for! Everything was explained to me & they were so kind. The hygienist asked me several times how I was doing & she was incredibly sweet. Gundersen himself was very kind &warm!"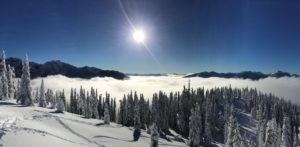 To Gundersen, going that extra mile is important because it creates meaning in the work he does. "We all need to make a living," he shares, "I want to do it in a way that I am caring for people. I'm not just doing fillings because yeah people need fillings, but I am doing fillings in a way that the person feels cared for."
To find out more and schedule your visit,  go to the Gundersen Dental Care website or call 360-352-2781.
Gundersen Dental Care
115 Cleveland Ave SE, Tumwater
360-352-2781
Monday – Thursday: 8:00 a.m. – 5:00 p.m.
Thursday-Friday, first week of the month: 8:00 a.m. – 5:00 p.m.
Sponsored