Local businesses face many challenges, and standing out in the crowd is a big one.  How Belleza Ropa in downtown Olympia chooses to stands out is unique.
If you've passed by Belleza Ropa in downtown Olympia on the corner of Capitol and 4th, you've probably noticed their diverse and colorful mix of clothing, jewelry, shoes, and other cute accessories. But what you may not know is that every brand and every piece has a story.
Jeannine knows that it takes a lot for a small business to survive. "Why does a small business survive amidst all the competition?" After a pause, she answers her own question, "People are wanting a personal connection. We all long for intimate interactions. If we lose that core of our downtown and community, the world would feel very different."
Owner Jeannine Kempees is proud to support local artisans and designers as well as support small business owners and their families around the world. "How do we compete with online shopping and big companies like Amazon?" she responds when asked what sets Belleza Ropa apart. "We build business that build community."
That's one of the reasons she likes to bring the world into her Olympia shop. UNOde50 is a new addition at Belleza Ropa. This jewelry line features elegant layered silver and is handcrafted by artisans in Spain. Another example is APNY Apparel. APNY Apparel creates beautiful hand printed silk products made by a family in India. These one-of-a-kind pieces are like functional art. "I like working with small organizations," Jeannine says. It's important to her that what she sells is directly supporting families and other small business.
Jeannine shops while thinking ahead. As we move into fall, she is purchasing goods for spring.  She analyzes trends and colors, always working a season ahead.  "Market is time for me to search out new brands for the store," Jeannine explains.  Finding fresh products that have a story are the goal.
Karen, the manager at Belleza Ropa, finds so much joy working in one of Olympia's premiere boutiques. "We have a lot to offer" she says. "We are unique and special and definitely not corporate." Karen shares that she and the other associates are challenged to reach out to different brands and vendors in order to learn more about them. "When you know more, you're more enthusiastic about the product," she elucidates. That enthusiasm translates to excellent customer service, whether you are looking for clothing, shoes or jewelry.
Belleza Ropa's jewelry selection spans a wide range of styles and prices, each offering a personal connection.  "Several of our brands are made right here in Washington," says Jeannine.  One favorite, Jazzola Jewelry started out making earrings out of scrap metal from Boeing.  Decades later, Michael Berg is still making earrings out of metals.  Jazzola comes to Belleza Ropa several times a year for trunk shows, showing hundreds of earrings to choose from.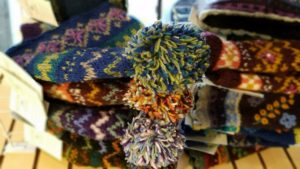 Belleza Ropa's handbag selection features hand tooled leather designs from craftsmen in Paraguay. Leaders in Leather was discovered by Jeannine 14 years ago, but these bags have been made one at a time by skilled artists for 3 generations. This legacy of love in leather is both beautiful and has a real old-world sense about it. "You see the hand of each artist in the leather work," Jeannine says.
Shopping parties are yet another way that Belleza Ropa desires to make that personal connection with their customers. They offer after-hours parties for small groups to shop, laugh, and enjoy the beautiful collections. This enables friends to connect with one another and really understand and appreciate the heart behind every item offered in the store.
"Our team is focused on being knowledgeable about each of our product lines and sharing that with our customers," Jeannine says. With how much thought and care goes into the purchase of each and every item they feature, she and her associates want to know every story that goes with every piece they sell.
And they can't wait to tell you all about it.
Belleza Ropa
101 Capitol Way N, Olympia
360-352-7672
info@bellezaropa.com
Monday – Sunday: 10:00 a.m. – 6:00 p.m.
Sponsored