Clint Salter was taking his daughter to gymnastics when he noticed a set of stone products outside a nearby building. Intrigued and aware that he had a fireplace job coming up for a client, he stopped to check it out. That's how Salter, owner of Salter Remodeling, discovered Professional Stone Products (PSP), a locally owned and operated store offering all manner of natural and manufactured stone merchandise.
"I hadn't known about them before that day," says Salter. "They were very helpful, and I was impressed with their products. Since then, I've found the staff is very professional and they always have great customer service. Now I send all my clients there and they've been happy with their experience."
As a smaller alternative to big box stores, PSP prides itself on such service. Clients range from builders like Salter to first-time DIYers who are often nervous about getting started with their stone projects. "We'll have people come in with a little drawing sketched on a napkin," says Adam Lejune, office assistant. "One of us will sit down with them and figure out the square footage or how much stone they need for their project."
For customers who need a little extra reassurance, owner Charles Grimmer provides his cell phone number. "I love to encourage our customers to use us as a resource. We understand how everything works together when it comes to problem-solving and which materials fit their projects," he says. "People will call me in the middle of a Saturday and I'm happy to walk them through the installation process or just answer simple questions they might have. If they've never done it before, we'll explain what they need to do and what materials they need to accomplish the task."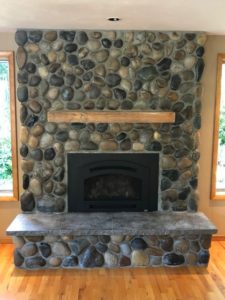 In one recent case, Salter had referred several women from a local church who were designing a fireplace. On their third visit, they asked to see some larger samples to determine the correct color. "I pulled a pallet out to show them what it looked like outside in natural light and they were just thrilled that we took the time to show them the actual product, not just the sample," says Grimmer. "Seeing it that way made a huge difference."
As attentive as the staff is to the needs of individual DIYers, they're equally responsive to fellow business owners. "That's what you're looking for," says Salter. "Someone who can work well with you as a professional contractor, but who can also work with your customers who might need more handholding. That's hard to find in this industry."
Quick turnaround times are crucial for contractors, so PSP seeks out vendors they can rely on to consistently deliver quality products on schedule. "Masons depend on our stone being here in a timely manner, so they can schedule their jobs," says Dionne Grimm, office manager and sales associate. "Quality is also really important."
One product line they've carried from the beginning is Creative Mines, the latest invention from the minds behind El Dorado Stone, one of the largest manufacturing companies in the world. "They sold that back in 2007 and intended to retire, but then decided to come back into the market with a new mix design," says Grimmer. "All the technical aspects of the mix design are hands down the best thing on the market. About four years ago we jumped on board with this brand and now they're setting the standards worldwide."
Creative Mines products are comprised of a unique, lightweight mix that is 70 percent recycled and can be customized to meet client needs. "They have stainless steel molds versus traditional wood molds, which make their products truer to size, especially the stack stones," says Grimmer. "It's much more doable for homeowners to install a panel and actually have the corners and flats match up. They don't have to fudge on that dimension and try to fill it in with mortar."
The company's color palette is also more natural than typical offerings, perhaps in part because products are hand painted by seven women who work in their Idaho headquarters. Customers can mix and match colors, creating their own blends that allow them to stand out from other contractors. "You can blend stone colors , textures and shape 50/50 or 70/30," says Grimmer. "Builders can develop their own custom blends for a subdivision, for example, and offer a custom stone to represent their brand."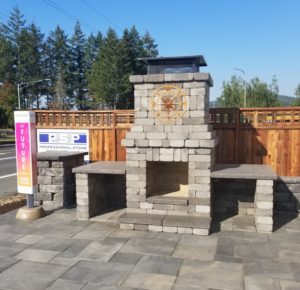 Locally, PSP has partnerships with several paver vendors, include Western Interlock and Castohn. Customers benefit from the relationship. "If a customer needs specific products, I can quickly arrange to ship them in or make a visit locally to resolve any quality control issues that may come up." explains Grimmer. "We really like having local vendors so we can have as much control as possible to satisfy our customers."
Once clients have completed a project, they often send photos to PSP showing the end result. "People get excited about the final product," Grimmer says. "It's really fun to see the project completed and know that we were able to be a part of the process to guide them through their project. Without having that direction, they would never have tackled it."
It's all part of the company's drive to deliver an outstanding experience for clients. "We're really passionate about making sure we provide a quality product in a timely manner and at a good price," says Grimmer. "We really want our customers to have a flawless experience when they come in. We are so thankful for all of you who have been in to see what PSP is all about. We are grateful for your support and look forward to any opportunity to serve you in the future."
For more information on PSP's extensive product line, visit the Professional Stone Products website, call 360-489-0763 or drop by their showroom.
Professional Stone Products
2621 Mottman CT SW STE F,Tumwater
Monday-Friday: 7:30 a.m. – 4:30 p.m.
Saturday: 11:00 a.m. – 3:00 p.m.
Sponsored