Judy Murphy is a Reading Buddy volunteer for first graders at South Bay Elementary through the United Way Reading Buddies  program. "It's a great way to get your grandparent fix," she says. Judy enjoys her time with the kids and feels it fosters the idea that reading is good and can be fun. "Having that presence with kids is also important," she adds. Contact with the children has been good for her too.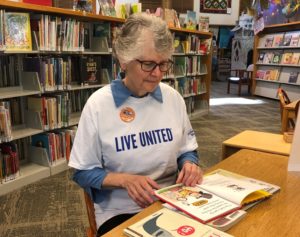 Judy explains that Reading Buddies may spend a brief time with each student, but added up over the school year, that time and consistent interaction can have a big impact. "You really feel like you are doing something," says Judy.
When she first started volunteering through the Reading Buddy program, Judy was amazed at how much the school, and reading requirements in particular, have changed since she was a child. "The expectations are quite sophisticated," shesaid. The teachers bring a lot of energy and creativity into the classroom, and the books have changed too. Even at the kindergarten and first grade level, they are reading a lot about the weather and science. "The books they bring from their reading boxes are so creative," she shares. Some kids really love a series that features disaster stories, and they all enjoy the funny books about a pigeon who does all sorts of unlikely things like drive a bus and get a pet puppy.
Reading aptitude can have a big impact on a person's life. Studies have shown when students are not reading at grade level by third grade, they are four times more likely not to graduate on time or at all. That is where the United Way Reading Buddies program comes in.
Volunteers go through a training and orientation session and commit to serving one hour a week throughout the school year. That level of dedication is important because consistency matters for classroom planning. And the students really come to look forward to and rely on the special time they have with their assigned Reading Buddy.
Some students need help learning to read, others are great at reading silently, but need practice reading aloud, and some would simply benefit from a steady adult role model. The teacher determines which students are assigned Reading Buddies and what they need to work on. The volunteers are there to listen and help the kids when they struggle with sounding out a word or to remind them to slow down and think about what the words mean as they read.
Reading Buddies get to witness kids' reading skills develop, and also see how they all grow and change throughout the year. One of Judy's readers loved non-fiction and started the year  by reading all about dinosaurs and wanted to grow up to be a paleontologist. By the end of the year he had completely changed his focus to sports.
By the end of the school year, Judy feels a bond with her young readers, and she's sometimes surprised by how sad they sometimes are to say goodbye. Often they bring her little presents. She tells of one little girl who struggled with reading aloud. Judy would always ask her to speak louder so she could hear. "I was sure she thought I was a big nag," Judy laughs. But that little girl brought her a drawing and was near tears at their last session.
Encouraging Others to Volunteer
Living at Panorama, Judy thought "Goodness gracious look at all the potential volunteers." She readily admits that many of her Panorama neighbors keep themselves very busy, herself included. However, she suspected there were likely others who could carve out an hour or so a week to work with kids. So Judy contacted Meghan Vu, who serves as Panorama's Director of Philanthropy, and the two embarked on an outreach program. Eleven Panorama residents went through the United Way Reading Buddy training in September and are set to begin their Reading Buddy adventures this year.
According to United Way, 94 percent of the students served by this program showed improved reading scores at the end of the 2017-2018 school year.
"We have schools on a waiting list and more students to reach," says Jennifer Thompson, United Way Reading Buddies Coordinator. Training is comprehensive, and tips and tricks for student engagement are straightforward. Once a volunteer goes through the training program, they are assigned a school and put in touch with that school's reading liaison. Then their Reading Buddy adventure begins.
If you can commit to volunteering at a school at the same time every week for about an hour during the school year, the Reading Buddies program may be a good fit for you too. For program questions, call Jennifer Thompson, United Way Reading Buddies Coordinator at 360-943-2773, ext. 121 or email jthompson@unitedway-thurston.org.
Sponsored