Compassion is more than just acknowledging the struggles of others. By definition, it's also the desire to do something to help. Compassion has no age limit or cost, and can be a way of life as well as a kind act. For the students and staff of North Thurston Public Schools (NTPS), the Compassionate Community Project celebrates all the ways compassion benefits our lives.
The project is part of a larger, comprehensive effort called the Charter for Compassion. The Charter encourages signers worldwide to "make compassion a clear, luminous and dynamic force in our polarized world. Rooted in a principled determination to transcend selfishness, compassion can break down political, dogmatic, ideological and religious boundaries. Born of our deep interdependence, compassion is essential to human relationships and to a fulfilled humanity. It is the path to enlightenment, and indispensable to the creation of a just economy and a peaceful global community."
Last year the district partnered with the City of Lacey and the Lacey South Sound Chamber to help raise money for a new Lacey Food Bank. NTPS alone raised $27,000 through coin drives and are still involved with the vital, expanding project. Courtney Schrieve, executive director for NTPS public relations, explains that the Compassionate Community Project started several years ago thanks to a district-wide "focus on the whole child, not just academics."
"This year," says Schrieve, "we're not collecting money but promoting the idea of acts of compassion with the theme that everyone belongs."
"One of our core beliefs is that compassionate acts and attitudes creates a culture of service," says Dr. Debra Clemens, superintendent of North Thurston Public Schools.  "I'm excited that our students will have the opportunity to share their compassionate acts with our broader community. We embrace the diversity within our student population and know that our district-wide theme 'Everyone Belongs' will serve as a cornerstone for empowering our students as they demonstrate compassion toward one another and their outreach within our community."
At NTPS, the 2018-2019 Compassionate Community Project hopes to document 100,000 compassionate acts community-wide. Students, staff and community members, as well as local businesses, are encouraged to submit "compassionate act" entries which will be tracked online. Their mission strives to "treat each other with kindness, respect differences and make our district a place where everyone belongs and feels safe."
These acts of kindness can be large or small, helping one person or many. "We want people to track all compassionate acts," says Schrieve. "It could be anything from planting a school garden, to observing one child being kind to another child, raking leaves for an elderly neighbor, adopting a local non-profit. Compassion comes in many packages!"
Compassion coins will be handed out in the schools as a tangible recognition of good deeds. This, says the project's mission, helps "promotes compassionate acts and honors those who demonstrate compassion in our schools with a variety of compassion-centered activities, tools and educational opportunities including our compassion coins—be sure to 'pay it forward' if you get one. The idea is to recognize acts of compassion to others, our community and the Earth."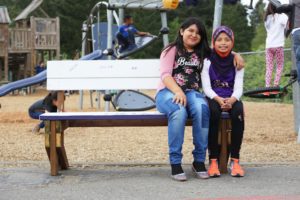 Executive Director of the Lacey South Sound Chamber, Blaine Land, praises the "very unique partnership" that's arisen through this campaign. "Typically, the Chamber and the City tie-in with the community," says Land, "Whereas schools work with students and teachers." She loves that this type of initiative- and outreach-based project includes "businesses, students, parents, teachers, and the community."
Land laughs that when she's "telling folks about the project, people are shocked that the Chamber and the City are so involved with the school district." But she is proud of all they've done for the Food Bank and thus needy students and families across the region.
Officials with the City of Lacey agree. "The City of Lacey is excited and proud to partner with North Thurston Public Schools and the Lacey South Sound Chamber on this Compassionate Community effort," says Scott Spence, Lacey city manager. "We work hard to reach every corner of our community, including students, parents, business owners, civic leaders, etc., to ignite the 'compassion spark' I believe we all carry. Compassion is such an important part of a healthy community and we are proud to take part in a campaign that showcases how fantastic our community members are."
Not sure what counts as an act of compassion? Follow regular posted Compassion Spotlight articles on the event page. Here, such groups as the River Ridge High School's Key Club and super volunteer 80-year old Brad Butler are honored for their work.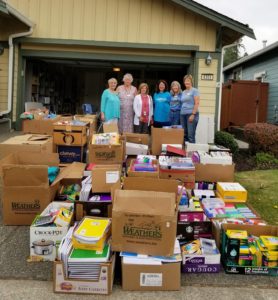 Reporting acts of compassion is easy. Simply fill out the form for yourself or your group, club, or organization. It can be an act of compassion you commit, or that you observe. Each NTPS facility will have a compassionate acts tracking poster prominently displayed. Community-wide tracking  takes place on the Compassionate Community Project website's large, heart-shaped progress meter. Also look for stickers supporting the project in many local businesses.
The global Charter for Compassion began in 2008, before some of this year's participating NTPS students were even born. It opens with a simple explanation: "The principle of compassion lies at the heart of all religious, ethical and spiritual traditions, calling us always to treat all others as we wish to be treated ourselves. Compassion impels us to work tirelessly to alleviate the suffering of our fellow creatures, to dethrone ourselves from the center of our world and put another there, and to honor the inviolable sanctity of every single human being, treating everybody, without exception, with absolute justice, equity and respect."
Thanks to the joint efforts of the NTPS, City of Lacey, and Lacey South Sound Chamber, this simple, intangible teaching could impact so many lives.
Sponsored