When Steve Johns, PA-C graduated from high school in Oregon City, Oregon he decided to enlist in the Army. He became an Army medic and thrived in the atmosphere of the military, becoming very focused and disciplined. "The Army helped me to build the foundation that led to my success as a student and in my career," shares Johns. After a four-year stint in the Army, Steve Johns re-classified and joined the Army Reserves. He was working as a civilian at St. Joseph's Medical Center in Tacoma as a scrub tech. Most of the surgeons he worked with were veterans who took a special interest in Johns recognizing his abilities and skills in the operating room. He was specializing in cardiac surgery when one of the surgeons who had been in the Special Forces told Steve, "You are way too smart not to continue your education."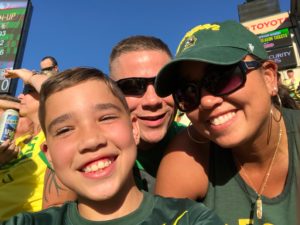 Steve took this comment to heart and began taking evening classes to earn his associate degree, but did not stop there. In 2010, Johns applied and was accepted to the prestigious Interservice Physician's Assistant Program (IPAD). This program, which is available to all branches of the military, is an accelerated, highly competitive program that condenses two years into one. In just 12 months, Johns completed his bachelor's degree and began a year of clinical rotations at Nellis Air Force Base in Las Vegas, Nevada. Eager to return to the Pacific Northwest, Johns returned to St. Joseph's Medical Center to work in Neurosurgery.
While Johns was working as physician's assistant in the neurosurgery department, he was participating in local races. He was a participant in the Fort Lewis Triathlon and rode the Seattle to Portland Bicycle ride several times. He really enjoyed the triathlon because of the challenge of competing in three categories of running, biking and swimming all in one race. Training for a triathlon is a time-consuming undertaking and with a very demanding work schedule he soon decided that Neurosurgery was not his final stop.
Johns's wife, Sylvia, who works for Olympia Orthopaedic Associates as the Director of Surgical Services knew they were hiring another Physician Assistant. "My wife encouraged me to apply for a job working with Dr. Brodie Wood," says Johns. "She knew that Olympia Orthopaedic Associates values work-life balance and that the physicians and employees are encouraged to be active." It turned out to be a great fit.
"Dr. Brodie Wood has a huge heart and a great personality," adds Johns. Dr. Wood has six children, so he understands the importance of spending time with his family. "Dr. Wood inspires those around him to work hard while encouraging us to have goals and aspirations outside of the workplace," he explains.
Johns did his homework, making sure that Dr. Wood was a surgeon that he would feel comfortable working with. "I am the one who deals with the patients post-operatively so it is important to me to be working with a talented and skilled surgeon," explains Johns. "Dr. Wood fits that description perfectly."
Once Johns's work life was in balance, he was able to get back to training for triathlons. Steve had done well in his first Ironman Half triathlon at Lake Stevens in 2012. A difficult course, the Lake Stevens Triathlon includes a one-mile swim, a hilly 56-mile bike ride, capped off with a 13.1-mile run. This successful foray into the world of Ironman triathlons gave him the confidence to compete in a full Ironman competition in Canada last July. Double the distance and triple the challenge, Johns had a great race finishing 15th in his division.
Ready to take on the challenge again, he was scheduled to compete in Ironman Maryland in September. Unfortunately, a bicycle accident sidelined him temporarily. He didn't have to go far to find a great surgeon, Dr. Trent McKay of Olympia Orthopaedics was able to get him back on his bike in no time. "I love working at Olympia Orthopaedic Associates," shares Johns. "The physicians here are active and encourage us all to be healthy and active as well." Olympia Orthopaedic Associates sponsors the OOA cycling team and the Blackhills Triathlon along with many other community organizations. When Steve participated in a stair climb to raise money for ALS, his employer supported him.
Not giving up, Steve Johns is continuing on his road to qualify for the Ironman Championships, which takes place every year on the island of Kona in Hawaii. He will compete in Ironman Santa Rosa in May 2019 and give Maryland another shot the following September. There is no doubt that among his biggest supporters will be his physician employers.
To make an appointment or to learn more about their involvement in the community visit the Olympia Orthopaedic Associates website.
Sponsored