There is always something special about how a family owned and operated restaurant can work its way into the heart of a community and Izzy's Classic Buffet has done just that for the past 15 years here in Olympia. Filled with gratitude for the constant support, owners Will and Cheyenne Hayes love to find unique ways to give back to this community, a community that has loved and supported their family over the years.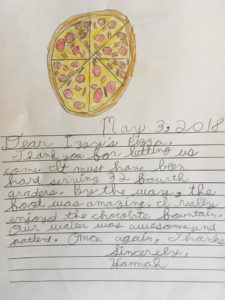 Over the years they have supported a wide range of local groups, but they have a special affinity for supporting youth program in our area, such as schools, scouting, sports and reading. Izzy's actively supports school fundraisers in the North Thurston and Olympia districts, and a few schools in Tumwater and Yelm, too. If a school is doing a fundraiser, Izzy's can donate free adult dinner certificates as raffle items.
Supporting local schools and groups is not new to the owners of Izzy's. "We probably donate 5 to 10 meals a week to different organizations," shares Cheyenne. "People send letter requests all the time."
"We know that it can get expensive to take families out to dinner," she adds. "So, if there are some positive ways to channel some coupons to families that want to come in, it's a good way to do it. Plus, we're obviously all for education, we have three kids ourselves." The Hayes kids are now 17, 15, and 11, and their son Deaven even works at the restaurant.
But their generosity doesn't stop with fundraisers. Izzy's also provides free academic achievement awards to schools. The awards are certificates for a free kid's buffet, which is good for kids 4- to 12-years-old, for any school that wants them.
The certificates are awarded by teachers to students for positive behavior or academic performance in school. "Sometimes librarians will contact us and use them for reading awards, and sometimes P.E. teachers use them," says Cheyenne. "We provide them for free to any school that requests them. And we try to reach out to every school year, to ask if they need any."
The awards can be customized for whichever academic program they are used for. Izzy's also gives out awards to be used for achievement in sports. These awards are not just for school sports, but in the community as well, such as with swim lessons or karate studios. And they donate Good Patient Awards for kids at doctor and dentist offices.
Izzy's banquet room, which seats up to 40 people, is also great for sports leagues, teams and group celebrations. As long as guests come with the intention of eating at the buffet, the banquet room is provided free of cost. And for sports teams wanting to use the banquet room, they offer a team discount, which allows the coach to eat for free, and their team to eat at a discounted rate.
Cheyenne and Will know that positive student achievement stems from positive adult leaders. Every May for National Teacher Appreciation Week, Izzy's donates certificates for a free meal to teachers in all three local school districts.
And at the end of each school year, for the last day of school, Izzy's gives school bus drivers free meal certificates for each kid on their bus; adding up to about 6,000 or 7,000 kid certificates a year. "The bus drivers love it because they have something to give away and they don't have to buy anything," says Cheyenne, "so the school districts love that."
An exciting, new addition to their community support efforts will be rolling out this fall in the form of Fundraiser Nights. Groups within our community can request a Fundraiser Night on a Monday-Wednesday and 20 percent of the tickets sales associated to their group will be given back to the organization.
From free pizzas and kid's meals, to fundraiser support, all those little donations add up to a lot of good in the community, and a lot of full bellies, too. Those interested in fundraising with Izzy's can email the restaurant directly at olympiaizzys@aol.com.
Izzy's Classic Buffet
3540 Pacific Avenue SE
Olympia, WA 98501
360-456-0314
Monday – Thursday: 11:00 a.m. – 9:00 p.m.
Friday – Saturday: 11:00 a.m. – 9:30 p.m.
Sunday: 11:00 am – 9:00 p.m.
Sponsored