It wasn't too long ago that Josey Howard was admittedly afraid of horses.
Now she's one of the nation's best in girls' cutting. A western-style rodeo competition, cutting sees a rider and horse work as team to demonstrate their ability to manage cattle during a 2 1/2 minute performance.
Howard, who will be a sophomore at Yelm High School this fall, and Taylor Hansen, who will be a junior at Tenino High School, finished in the top 15 in the cutting horse division at the 2018 National High School Rodeo Association National Finals.
Held in Rock Springs, Wyoming, July 15-21, Hansen finished 13th in the nation in girls' cutting, while Howard, one of only three freshmen among the nearly 100 participants to compete in the event, finished 15th overall, making Washington one of only four states to have multiple placers in the top 15.
The Evergreen State joined Texas, Kansas, and Utah, which had an event-high three placers, including division champion McKenna Coronado, as the only states with two or more riders in the top 15.
"High school rodeo is very competitive in some states," Howard said. "It's pretty much the states you'd expect to be good at it – Texas, Utah. I think when some heard we were from Washington, they thought we were up around Alaska. They had no idea where we were from. I think we surprised some people there with how well we did."
Girls' cutting was one of 16 rodeo events contested at the national finals. The competition also featured barrel racing, bareback riding, bull riding, saddle bronc, steer wrestling, and team roping, among other events.
"Along with any other horse related sport, having a strong relationship with your cutting horse is vital," Howard said. "When you climb on, you have to know that the horse is going to take care of you. There is a crazy level of trust that has to be there."
The event consisted of two rounds for each team with the top finishers advancing to a finals run. Hansen finished with an overall point total of 425.5. Howard posted a total of 423 – just seven points outside the top 10 and 11 shy of the fifth-place finisher.
Howard and Hansen secured their places in the finals after both registering strong showings in the opening two rounds.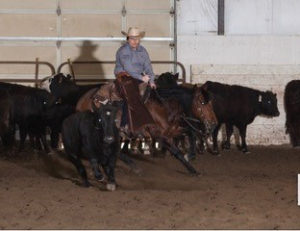 Howard finished her first run with a score of 146, tying her for seventh in the standings. Hansen was tied for 14th after the first performance receiving a score of 144.5.
"I was nervous at first. Usually we just have one judge, but at nationals we had two," Howard said. "So that was a little different. Plus just being at nationals made me nervous, but after that first one I started to get comfortable."
Howard topped her group of 15 with her second run, finishing with a score of 147, which was good for third overall among all riders.
For her performance, Howard received some hardware, a championship belt buckle in honor of her high placing in the round.
"Usually I will trade with someone," said Howard about her typical practice of exchanging buckles with fellow competitors at events, "but I think I will keep this one."
Howard received a score of 130 in the final round, while Hansen tallied a score of 135.
"I really didn't have any expectations coming in," Howard said. "So I am very pleased with how I did. It was just really cool being able to be around and talk with all these different people from other states. It was just a great experience."
Howard qualified for the national finals after winning the state title in girls' cutting at the Washington State High School Rodeo Association's state championship meet in the spring.
"At the beginning of the high school rodeo shows I really wasn't sure what to expect. I just spent the winter riding as much as I could in preparation," Howard said.
Coming from a family of established horse trainers, including her grandfather, Jeff Sleeman, who works with both Howard and Hansen, Howard actually shied away from all things equine after breaking her arm following a spill off a horse at the age of five.
Despite her strong bloodlines, Howard stopped riding all together until she was 11. However, her potential fear was ultimately trumped by her interest in the sport.
"It's the best feeling in the world to ride out of the show pen knowing that you did good," Howard said. "The first time I cut in an actual show pen was interesting. I remember letting cattle go back into the herd when they weren't supposed to, almost coming out of my saddle a few times and at the end I lost hold of one of my reins. It's safe to say I've improve a little since then."