A couple strolls down the park path while nearby young children play happily on the playground equipment. In the distance, cheers can be heard from the baseball diamond when a young ball player gets a base hit. The sun slowly sets as park goers breathe in the cool evening air. This is a common scene at City of Lacey parks over the summer.
One thing you won't notice is a cloud of cigarette smoke or E-cigarette vapor hovering about the picnic tables and around the perimeter of the playground. You won't see litter from cigarettes and cigars under the park benches. At the ball fields, you won't step in chewing tobacco-related waste, either. That is because all Lacey parks are now tobacco and vape free.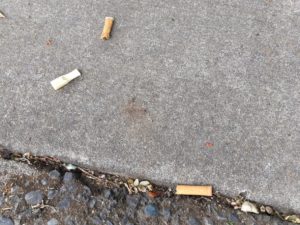 This change aligns with 20 other Washington cities that have enacted similar bans in their parks and public areas for the comfort and benefit of all park patrons. This move is part of a larger national trend, which includes over 1,500 cities across the U.S.
The move also falls in line with other regulated products intended for adult consumption like alcohol, which may only be consumed publically at licensed establishments, and cannabis, which is prohibited from public consumption.
"Children are vulnerable to second-hand exposure and to modeled behaviors," says Bethany Doak, a local parent, "so it seems reasonable to request that those substances not be used in shared public places." Bethany's three children, who range in age from preschool to elementary age, enjoy playing at local parks and playgrounds. "I think it will make our times there a little more pleasant. I have mild asthma, so it is more than just an annoyance when I am caught downwind of a smoker. They can choose to light up later, but I can't choose to not have an asthma attack."
There is a common misconception that outdoor secondhand smoke poses much less risk than secondhand smoke exposure in a closed environment like a house or car. However, research suggests that is not true, especially in respects to vulnerable populations like children, the elderly, and those with breathing conditions like asthma. Research conducted at the University of Maryland campus in Baltimore County indicates that the fine particles that can cause breathing difficulty for vulnerable populations do not dissipate nearly as quickly as once thought. Other research at Stanford supports the University of Maryland study.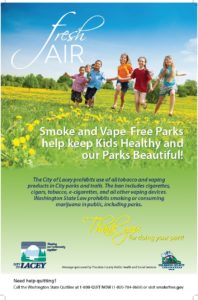 Aside from the health effects, smoking in the parks had resulted in additional amounts of litter and undesirable waste. "Often there was chewing tobacco mess around the ball fields," says Jen Burbidge, Parks and Recreation Director for City of Lacey. There has been a long association between baseball and smokeless tobacco, an association the Major League Baseball (MLB) Association is trying to break. The MLB banned new players to the sport from using smokeless tobacco products, a sure sign the association understands the impact of behavior modeling on young people.
The City of Lacey parks maintenance department does a spectacular job keeping every park clean and enjoyable for patron use. Lacey parks are some of the best maintained in the region. From now on, maintenance crews will be able to focus their energy on other areas of park maintenance.
New posters and signage will go up around Lacey parks to remind park goers of the new rules. Summer is a great time to go and check out one of the many great parks. When a cool breeze picks up after a nice warm day one of our local parks is a great way to sit back, take a deep breath, and relax at the end of a long day.
To get the most out of your City of Lacey parks, check out the parks website for a full list of parks and features to enjoy at each one you visit. For questions or comments call Lacey Parks and Recreation at 360-491-0857.
Sponsored