Love. Community. And coffee. This is the Dutch Bros' Way. Born in 1992 in Grant's Pass, Oregon, Dutch Bros has always been about more than just good coffee…make that great coffee. According to their website, "Coffee is what we do, but it is not who we are."
Relationships come in all shapes, sizes, and roasts at Dutch Bros. Late this last spring, our own Thurston County community got a taste of the amazing generosity that Dutch Bros is known for.
Carrie and Don Wall, who together grace our community with three Dutch Bros locations, joined together with River Ridge High School's PIE (Partners In Education) program. "When businesses give back to schools, it helps students understand how cyclical our community is," Carrie says.
This partnership brought a first-time fundraiser to our favorite Dutch coffee stand. Dutch Bros and the River Ridge SkillsUSA club worked together and raised over $4,500 in just a few hours. And how did they do it? With a little bit of love and a whole lot of coffee.
"We created Fund Raiser cards with lots of great deals," Carrie explains. "Dollar off coupons. 2 for 1 opportunities. The cards were valued at $50 but we sold them for $10…and we sold out!"
Cathy Boos of River Ridge High School brought 12 students from the SkillsUSA who sold the cards in line as eager customers waited. Their smiles and enthusiasm not only brought in funds for their club, it helped to show just how much Dutch Bros cares about their community.
Carrie shared that their event trailer has been at South Sound Stadium in support of both River Ridge and Timberland High Schools. Sales from that trailer went right back to the schools. "We genuinely want to do good in the community" she shares. "And we do that by supporting local organizations." They like to keep their options open when it comes to supporting schools, especially since they have three school-aged children.
Dutch Bros has been about family from the very beginning. Founded by brothers Dane and Travis Boersma (who come from Dutch roots, of course), the brothers were excited to share their love and passion for quality coffee and relationships. Don Wall actually grew up in Grant's Pass and knew the Dutch Bros personally.
Unfortunately, Dane passed away in 2009 after a 4 year battle with Lou Gehrig's disease. His passing led to Dutch Bros' biggest fundraiser: Drink One For Dane. "This is Dutch Bro's biggest Give Back day," explains Carrie, "with all proceeds from all 312 locations going to find a cure for ALS."
And it was a big day indeed! If you happen into one of our local Dutch Bros on Drink One For Dane day, you will notice it feels a little…different. "The crew loves dressing up!" Carrie laughed. "Blue camo, tutus…every year it gets crazier! They love to be a part of something bigger than themselves. They go bananas!"
And go bananas they did. Dutch Bros offered extra incentives, such as 9 stamps on a coffee card with the purchase of a large drink. They know that a high volume in sales means more money to donate to the cause.
Locally, our Dutch Bros raised over $8,000. Nationally, Dutch Bros donated over $1.35 million!
So what's next?
This September, Carrie, Don, and their Dutch family will participate in the Out of the Darkness Olympia Walk. This walk joins with thousands of others in communities just like ours as they raise awareness and funds for the American Foundation for Suicide Prevention (AFSP). "And next year, I really want to do the Relay For Life," Carrie shares.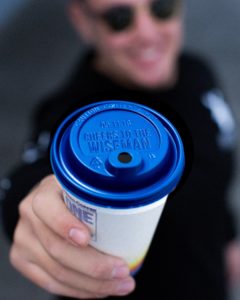 Carrie's desire to give back and participate in community growth is one of the main things that drew her to Dutch Bros in the first place. She disclosed, "I had a conversation with my husband about Dutch Bros' vision. It was exactly how I want to live my life – with optimism and love and really truly giving back to people. His response? 'You've never even worked for them before!'" But that didn't stop the two from talking with Don's friend, Travis Boersma (yes, that Travis Boersma) about the possibility of opening a franchise in Thurston County.
However, it didn't happen overnight. It actually took four years from their tentative steps into a franchise to actually opening their first location. "I like to take my time and make sure the location is right," Carrie reveals.
And, boy, is it ever! Between their three Thurston County locations, Dutch Bros is making a huge difference in our community. Each year their opportunities to give back grows along with their generosity. And our community is better for it.
Sponsored