An enormous amount of time and effort goes into producing fabulous cheese. It takes even more attention when you are involved from start to finish. Olympia Farmers Market shoppers have the extravagant luxury of getting cheese from two family owned businesses, Tunawerth Creamery and Rosecrest Farm. A single taste of their Gouda or Swiss cheese will keep you coming back for more.
Sharon and Gary McCool have been dairy farmers for over 40 years. Rosecrest Farm, their certified organic dairy in Chehalis, is home to 135 cows that are milked twice daily. That includes weekends and holidays! Milk is sold to Organic Valley, but a portion is withheld for Swiss cheese. Sharon churns each batch for an hour and forty minutes. It's just "me and my muscles," she laughs. Her arms must be strong from making cheese for the past 10 years. For the traditionalists, there is Mountain Swiss. For the chefs there is Swiss with country herb and garlic, which the Space Needle Restaurant uses. Try the spicy pepperoni cheese with all the taste you would expect but without any meat. Maybe you would prefer caraway or peppercorn with chives. Sharon typically has samples at the Market. Additionally, cheese is sold at the farm, where tours can be arranged for seniors, children or other groups.
You'll have a taste of the Netherlands when you enjoy the dairy products of Tunawerth Creamery, owned by Anita and Peter de Boer. The de Boers are also hands-on with tending to their cows and making cheese in batches. They know that what you feed you cows translates to the quality of the milk and hence the cheese. Their flagship Gouda is an original recipe from their homeland.
"Everybody loves Gouda," says Anita, who long held the dream to have a creamery in the United States. Now she has the pleasure to make cheese with choices ranging from plain Gouda to ones flavored with stinging nettles or cumin. The garlic and parsley are great for cooking. Tunawerth makes buttermilk, creamy cream cheese and the very popular cheddar cheese curds. They also sell yogurt. Tunawerth supports local vendors with their products, including HeyDay Café, Blissful Wunders, Madeline's Bavarian Wurst, Crossed Paws Bakery, and others.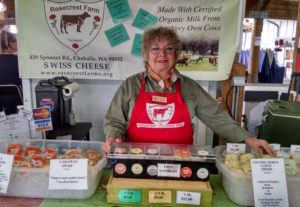 Fine cheese is like fine chocolate. Both are melt-in-your mouth experiences, where you just savor the moment. Let Rosecrest Farm and Tunawerth Creamery do the milking and making. The hardest thing you'll have to do it decide what else to eat with your cheese.
For more information, visit the Olympia Farmers Market website.
Eat Well – Be Well
Sponsored