The music scene in Olympia and the Pacific Northwest is a lively one. Not a weekend goes by where you can't find some live music, somewhere. But there's something extra special about the summer tradition of free outdoor concerts. This year, the Olympia Downtown Alliance (Alliance) continues a 39 year tradition of bringing the community together for their annual Music in the Park series.
From July 11 thru August 22 the free, family-friendly concerts will be held each Wednesday from 7:00 p.m. to 8:00 p.m. at Sylvester Park, in the heart of downtown Olympia. "Every year we try to have a mix of music genres," explains Mark Furman of Heritage Bank, a volunteer for the event for 30 years. "And to make an environment where families feel free to come down."
Plan to arrive early for pre-concert festivities. Starting at 6:30 p.m. see special performances by local youth, who will play a 10-15 minute set to open the show. New this year is local comedian Sam Miller, who will emcee each night alongside media partner Mixx96.1.
Also new this year will be food menus provided at the Alliance's info. booth. Guests can order meals from some of the local restaurants downtown, and have it delivered to the park. "We have all these great restaurants downtown," says Stephanie McManus, Imagemaking Coordinator for the Alliance, "Having menus available takes an element of planning off people's plate. They can come to the back booth and order food, then we'll text them and they can come pick it up."
While many things are new, many remain the same, like the wide variety of music. As always, Music in the Park has something for everyone. Everything from electric soul, folk blues, country, pop, and rock, to funk and rhythm and blues form the incredibly talented line-up this year. "I think it's important for a vibrant downtown to have a summer event like this," Mark says. "It's a nice mix of people, and it exudes a positive atmosphere downtown."
In July, see three unique Olympia bands, starting with Retro Jade on July 11,
Hook Me Up on July 18 and Micaiah Sawyer on July 25.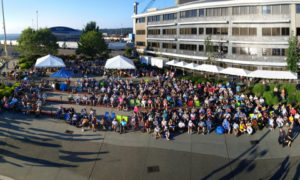 The shows continue through August, beginning with East-coast style rhythm and blues group Joe Blue and the Roof Shakers on August 1, blues rock by The Michelle Taylor Band on August 8, and classic rock band Blind Facsimile on August 15. The series ends with world-pop by En Canto, a Seattle-based Brazilian Forro ensemble on August 22.
Catch two additional outdoor concerts at the Port of Olympia Plaza two Fridays in August. First up is the Sonic Funk Orchestra on August 3, followed by America's first Corps band, 5-Man Trio on August 17. With plenty of space for dancing, the Port Plaza is a great location for these energetic bands to perform.
Thanks to the Olympia Downtown Alliance, their volunteers, and many community sponsors, Music in the Park continues to bring families and friends downtown to enjoy the wonderful local music and food that Olympia has to offer.
More information about the event can be found at the Olympia Downtown Alliance website. Allow time to find parking, or take advantage of the many bus routes through Intercity Transit.
Sylvester Park is located at 615 Washington St. SE, Olympia, on the corner of Capital Way and Legion Way. The Port Plaza is located at 701 Columbia Street NW, Olympia.
Sponsored