Caring for others asks for patience, ingenuity, dedication, and humor, along with a list of nuanced skills. Recipients want dignity and kindness. All this becomes increasingly important when it is your mom, spouse or other family member who needs these services. "The need for care is growing exponentially," explained Nora Edge, administrator and caregiver for Capital Homecare Cooperative (CHC). She also noted that in Washington State, for every caregiver currently employed, there are 12 to 14 people who have not yet received the care that they need. Capital Homecare embodies a new model for the caregiving business that creates a positive experience for its clients as well as the people providing the care.
While the homecare cooperative model may seem new, the homecare cooperative movement has been growing nationally.  In launching, Capital Homecare joined the ranks as the ninth homecare cooperative in the country, with five home care cooperatives currently in development.  With the help of Olympia's Northwest Cooperative Development Center and the energies of Edge and others, Capital Home Care Cooperative opened its doors in April. It's an exciting concept. The core of CHC is its five-member board. They are owners as well as care providers for seniors and persons with disabilities. Five additional people are members/care providers, meaning they own a share of the business, carry a vote in business matters, and receive shares in the business' profits. This concept brings a new level of awareness and commitment to all involved. Members of CHC become educators and social activists, as well as skilled service providers, giving voices to the concerns of this profession.
The field of caregiving faces on-going challenges, including caregivers typically earning sub living wages.  The work is easily undervalued. Family members, usually the first line of caring, are typically unpaid helpers, while professionally employed caregivers make a median wage of $10 an hour, roughly $20,000 a year. Forty percent of the 2.5 million currently employed caregivers on are public assistance. It's difficult to say exactly why wages have been low. Perhaps it is because tasks are routine or because it can be hard to measure the value of time spent. Ninety percent of caregivers are women. In any event, clients are certain to want capable people who embody honesty and tenderness. Capital Homecare Cooperative is on the leading edge of providing top-notch service to its clients while providing excellent working conditions for their providers. In a landscape where turnover can be high and appreciation low, CHC is changing this paradigm.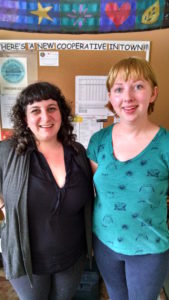 The doors of Capital Homecare opened earlier this spring, but the plan has been in process for over a year. Edge, originally from Massachusetts, heard that Washington State had a union for caregivers (SEIU). Herself a caregiver for fifteen years, Edge had a dream to put together an organization that would provide a financially viable proposition for the dedicated people in the profession. In learning more about the state of Washington, Edge learned that the NWCDC had been working to bring cooperative homecare to Olympia, and so to Olympia she came. Teaming with the Northwest Cooperative, Care Connection, The Home Care Foundation and many other local supporters, the doors were opened.
Caregiver/members are all certified Home care Aids (HCAs), Home Care Aid or as a Certified Nursing Assistant (CNA). The current team is diverse in age, talents, and personality "The team is brilliant, quirky, amusing, and inspiring," Edge added.
Homecare can be required round the clock, which gives great flexibility to people wanting work nights or weekends as well as various times of the day. Work can be part or full time. This can be advantageous to graduate students, parents of young children, people with already full schedules or to retired people wanting limited yet meaningful employment
Capital Homecare works with seniors and persons with disabilities to provide an array of non-medical services such as mobility assistance, showering, medication reminders, companionship, planning and preparing nutritious meals, shopping, errands and household chores. This could be an outing to the grocery store or a trip to the doctor.
Schedules can be arranged to help people get up in the morning or get showered and safely to bed a night. Sometimes people might want care for a short period of time after an accident or surgery. Others want regular, long-term help. CHC works with clients for specific scheduling requirements. Great care is taken to make a good match for the care provider and client. Attention is also given to creating teams of caregivers to provide continuity and stability to those who require more hours of care.
Capital Homecare Cooperative is an idea, now in form, whose time has come. "I believe the cooperative model IS the solution to many of the barriers currently facing the home care industry," said Edge regarding both filling the need for providing caregivers and amenable working conditions. This group of dedicated professionals affirms that is possible. CHC is here to build relationships where trust is created for long-term satisfaction.
The Cooperative is interviewing people who are interested in becoming part of the team, as well as taking consultations for services.  You can get further information on the Capital Homecare Cooperative website  or call them at 360-888-6175.
Sponsored