The Oxford Dictionary defines pixie dust as "a substance or influence with an apparently magical effect that brings great success or luck." But for a group of event organizers here in Olympia, it means something much more. They are hoping to bring about an experience
unlike any other this town has ever seen. Will Erickson, Hildi Flores and Andy Alexander are not new to the music scene, in fact they have more than 20 years of experience between them and they're using that knowledge to create an event you won't want to miss – the Pixie Dust Festival on March 31, 2018.
"It will be a content rich night that hopefully will be very different because it's being curated by us. We have a totally unique perspective and very different backgrounds, but all more or less in music," Andy explains as I sit down with the three of them. "We're passionate about the changing trends in music and how fast Olympia is growing, so we think it deserves a next-level music and art festivals to tie the downtown together. Something people can really look forward to."
The group says the idea has been on their minds for many years and last summer they finally brought it to fruition with an outdoor music event affectionately named Pixie Dust Festival. As Hildi shares, "The name comes from the idea of regressing back to that sort of childhood freedom, sense of imagination, just being carefree and who you want to be. And our festivals allow you to exist that way for that one night."
With a diverse population, Olympia has a rich music and arts culture, but also a lot of talent many don't know about. "We want people to take away from our event that there are contemporary, electronic and dance music producers in Olympia who are good and doing big things, who work on a regional level. We have a lot of music industry veterans here that form this community that is just under the surface and we want to shine a light on it," Andy says.
"We want to create a real scene at our event where you can come out to and know there's going to be a real vibe there," Hildi adds. "It's not just a tavern or nightclub, there's actually people who have art to share with each other. It's almost like a networking event in a way."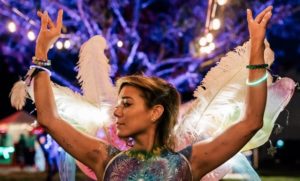 The event will be a collaboration with a handful of downtown businesses. As Andy elaborates, "There are just so many cool things close together right in the same area of downtown. We want to have fun with it and build something. We want to get everybody together for one night and engage with the other partner venues and kind of funnel everyone through and then into our after party."
Guests will begin their evening at Chelsea Farms Oyster Bar and Tipsy Piano Bar with appetizers and cocktails. Next, the party continues at the Oly Underground and The Society where different DJs and themes will fill the venues. At each location, ticket holders will get special VIP treatment depending on the venue.
Finally, the evening will conclude with an unforgettable after-hours party at the Pixie Dust Warehouse, a pop-up space in the heart of downtown located at 311 Capitol Way, Suite B, just behind the Rhythm and Rye. Renowned musician, DJ and yogi Bibi McGill will perform. She is best known for touring with Beyonce, Pink and even playing for past presidents. She now travels the world teaching her yoga classes and putting on her own shows. In fact, on the day of the event, you can catch one of her classes at Gravity Yoga by purchasing a separate ticket here.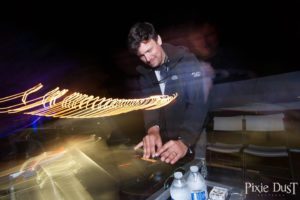 Also on the docket for the main event is Super Square out of Seattle, but Andy explains they will also be showcasing local talent. "We have some very interesting underground Olympia musicians we have selected just on the merit of their awesome electronic music sound. They might not be names you recognize, but they are going to help create our scene," he says. Because the electronic music scene has typically been a very inclusive environment, Andy says he hopes people will be able to let go and just be whoever they want to be. "We give people permission to have an awesome time, dress up and really get weird. We create the backdrop and the setting."  And with unique one-of-a-kind artwork also on display at the venues, what a setting it will be.
For this one night, the magical portal will open in downtown Olympia and by morning all that will be left may be some traces of Pixie Dust in the wind. If you don't want to miss this enchanted evening purchase your event tickets here or visit the Pixie Dust Facebook Page. The Pixie Dust Festival will be held on March 31 starting at 4:00 p.m.