Robert Frost once wrote a lovely poem about a road not taken. I have often thought the last line, "I took the one less traveled by, and that has made all the difference" – a metaphor for life. A few months ago, my family decided to take a more literal different path when we changed schools and districts. For the last three months, my children have been attending the Olympia Regional Learning Academy (ORLA) off Boulevard Road in Olympia.

ORLA is unlike any school I have ever seen, though it is a public school. The differences can be seen and felt from the moment you walk through the double doors. Opened in 2015 – though the school is older – the building is bright and warm. Students of all ages can be seen talking or walking to class, often with their parents in tow. Signs throughout the common area remind all that "love is a verb," a motto that is taken seriously within these walls.
Funded with both Alternative Learning Experience (ALE) and basic funds, ORLA is an important and innovative part of the Olympia School District. With four separate programs, ORLA exists to meet the needs of families who find the traditional public school setting a poor fit. Head administrator, Celeste Waltermeyer, finds, "a lot more students seeking alternative learning because they want that smaller classroom experience and they want or need that one-on-one aspect of their education." They find this at ORLA, as well as a culture of community and acceptance.
Students of all ages, from preschool through high school, attend classes at ORLA. The youngest attend Montessori-based classes and may continue in this program through sixth grade. Montessori classes are based on a three-hour work period, in which students are encouraged to choose from a variety of hands-on activities that foster curiosity and independent learning.
Mom, Robbi Kesler describes her second-grade son's experience: "Since my son started kindergarten at ORLA Montessori, I have enjoyed watching him develop academically and socially. He is curious, compassionate and learning how to be responsible and self-motivated."
The other option for elementary school students is ORLA's hConnect program. The program's mission is, "To support home-based instruction by providing enrichment classes and resources for students in grades K-12 that may be difficult to provide at home, working with families to support them in the education of their children." For homeschooling families, hConnect offers support, interesting classes and time with friends. Class offerings include writing, social skills, theater and math games. Parents are expected to be on campus during their student's classes, either volunteering in the classroom or nearby.
Families also have access to the Curriculum Resource Center (CCR). This library houses a variety of curriculum, games and video in addition to the usual assortment of books. Families can check out curriculum to use for home study. Library curator, Cassie, is a fount of knowledge and happily guides new homeschool families to helpful materials.
The MAST program is relatively new to ORLA, offering seventh and eighth grade students a full-time middle school program based on Montessori or inquiry-based educational philosophies. Classes occur Monday through Thursday, with Fridays being reserved for field trips. Students learn from teachers, peers and their environments. Tristen, a MAST student, has this to say about the program: "MAST is the most supportive and safe environment for learning. Even if you have the wrong answer it's good to say, because we learn from them. MAST has been the best learning environment for me because everyone is so caring and supportive."
Last year the students partnered with the National Park Service in creating South Sound Prairie Gardens.
"Our exploratory class is a blend of field trips out into our community and learning onsite," says Elle, an eighth grader. "When we visit museums, we don't just walk around, we absorb the art and take notes in our field journals. We also complete packets that highlight specific exhibits. Other times we go on outdoor field trips. There we learn more about prairie plants which is one of our focuses in MAST. We have a prairie on our campus and work to preserve it during our onsite exploratory days."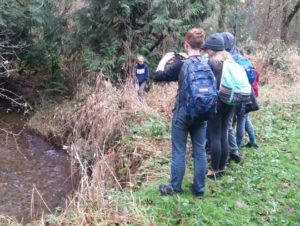 For sixth grade through high school students, ORLA offers the iConnect program. While full-time and diploma track, iConnect differs from other high schools in the area. The program is a blend of online learning and weekly face-to-face meeting with one of the program's two instructors. This method of instruction both prepares students for higher education and provides them with freedom to pursue passions. Many students use flexible schedule to take Running Start classes at South Puget Sound Community College.
Among schools that are increasingly focused on test scores over student growth, ORLA stands out. The school continues to change and grow as more families find this gem in our community. When I asked Ms. Waltermeyer what she loved most about ORLA she had this to say: "I love our staff. They are so fabulous. And our students bring me joy every single day."
She invites families interested in this unique school to come check it out.
Olympia Regional Learning Academy
2400 15th Avenue SE
Olympia, WA 98501
360-596-7730