Lacey's Timberline High School has one of the strongest theatre programs in Thurston County. Currently, the theatre is hosting their annual Dramafest.
Dramafest includes five different one-act plays, all of them student directed. "It's been great to see these student directors step up the play and be passionate about their own stories," says Robin Tuckett, the new theatre manager taking the place of long-time director and manager, Brenda Amburgy, who retired last year. "I make sure that they've got the costumes, the lights, the props, the things that they need, and they've really taken on hold of the stories they want to tell. Two of them are student written, and that's pretty cool."
Amburgy started the Timberline theatre 33 years ago from scratch, turning it into the famous theatre program it is today. "Because of her long-standing commitment to drama and the drama program at Timberline, it's a strong program that has a lot of talented actors and a lot of kids with passion to tell stories onstage. I was very lucky to inherit her program," comments Tuckett.
"In this part of my career," she continues, "I love being offstage and seeing my students develop and grow, which is pretty awesome. They are a great group of students and I'm so lucky to be working with them. My favorite part of theater is the collaboration – people have to work together. There's no such thing as a one-man show. Even if there's one actor on stage, there's ten other techs around it making sure it happens. We all have our different jobs but when we put them together that's where the art form happens. I'm super lucky to be working here at Timberline."
One of the student directors is Lauryn White, a junior. White originally joined theatre at the end of last year for the production of Young Frankenstein because of her shared interest in makeup with her older sister, who helps with the theatre makeup department.
Soon, White had a part in the fall musical, Xanadu. And now, White is directing, less than a year after joining theatre. "Acting on stage gives me a sense of direction and a certain freedom that I feel familiar and comfortable with," states White. "I became director out of sheer fate. I just went with the flow and tried to do my best."
When asked how she manages her time as a high school student and a director, White responded, "Balancing my time can be stressful, hard, busy, messy and dramatic, requiring the utmost tolerance and patience for success, subtle disappointment, mistakes, people and pop-up problems. But aside from that, it's definitely a journey to realization, meaning you'd find out a lot about yourself and how other people work. Theatre is fun because of the feeling of unity through the mutual feelings of the other participants."
Of course, the actors and actresses onstage are not the only people that are part of a production.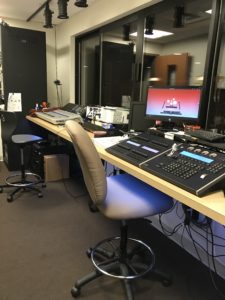 The students who work behind the scenes are called PTC, which stands for permanent tech crew. They handle the lights, sound, props and everything that happens behind the scenes. No play or production would be possible without PTC. It's a "door-opening opportunity," according to Brandon Vasquez, 17, the sound director and designer. "A few years ago I never really considered the thought of ever being anything resembling a sound or audio technician, but now I'm completely set on doing that in college and professionally."
"Light and sound work together to make sure that we can make the experience as authentic as possible so that the audience can get the best show," states Sean Surrency, 18, light director and designer.
Maya McKinney, a sophomore, explains, "It's a fun opportunity to be able to do stuff with yours hands. It's not just writing essays or having to read a 100 page book in a week or having to do math problems. It's hands on."
"My advice for people considering joining PTC is to be prepared to do anything," mentions Surrency. Anyone can sign up as a recruit.
Dramafest Green and Gold were held to smashing reviews this past weekend. The Best of the Fest, showcasing a little of all the best bits, will be held on March 3 at 7:00 p.m. at the Timberline High School Theatre. The ticket price is $6 for students and $8 for adults.
The spring musical, Bring It On, is about the captain of a top performing cheerleading squad and her struggles when she is transferred to another high school during her senior year. Performances will be held the second and third week of May and are sure to delight just as past Timberline performances have.
"If you want to try theatre, just do it. Don't second guess yourself, and just go for it," advises White.