Submitted by Rebekah Finn for Harlequin Productions
For a limited time (March 1–24, 2018) at Harlequin Productions, the New York Times bestselling novel The Art of Racing in the Rain will come to life onstage in Myra Platt's adaptation for theater. Prior to the show opening, many performances are already close to selling out.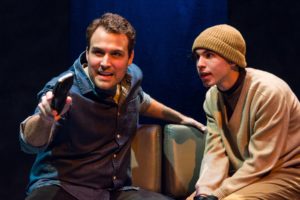 Director Linda Whitney is not completely surprised by the huge interest in the play: "The book was published in 2008, and it was pretty much an immediate bestseller. I think there's a great deal of love for the book. This book resonated with a lot of people."
Indeed, in the week before opening night at Harlequin, the novel was on display on the front counter at Browser's Books, and seemed to be selling well, according to the employee there. The book has generally sold so well that it was adapted into a YA (Young Adult) novel in 2011, and into multiple picture books starting in 2014. It's important to note, however, that the stage adaptation is based on the original novel, which was written for adults. (Read more about the different adaptions on the Harlequin blog.)
In 2012, Whitney heard from Seattle area friends that the Book-It Repertory Theater adaptation by Myra Platt was wonderful and would be a great show for Harlequin's historic State Theater space. Whitney, Artistic Director at Harlequin, goes on to explain: "A year ago when we were planning this season, I decided I should read it. I contacted Book-It, and they sent me the script they used. Once I read it, I absolutely loved it."
The story centers around the character of Enzo the dog, who has developed a very clear philosophy on life, partially through his extensive television education.
"Early in his life, he was exposed to a National Geographic special on Mongolia and on the Buddhist belief system and reincarnation. He believes he's an advanced enough creature that in his next life, he'll come back as a human being, so he does everything with that in mind," says Whitney.
Actor Xander Layden, who plays Enzo, is able to embody that philosophy and canine innocence through his movements and physical expressions. Early on, Enzo explains that he has a broad, flat tongue, so he can't communicate using human words, even though he understands them. But that doesn't stop him from expressing himself to his owner, Denny, in many different ways. Any dog lover will be able to relate. Your dog can't use words to tell you what's on his mind, but he will certainly express his thoughts and emotions to you with his tail, head, tongue, paws, and actions. The relationship between a dog and a human requires a connection that transcends language.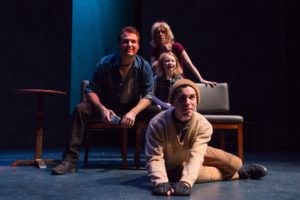 "Often, human relationships are complicated by words. But with a dog, gestures are all he has. And his relationship with his master is very intuitive," Whitney explains.
In a similar fashion, the Harlequin cast and crew works hard in this production to tell a touching, emotional story through much more than simply dialogue. With a few set pieces, a couple long benches, and three leather chairs, the set itself is fairly minimal. But in order to have 32 scenes in 23 different locations, there are three enormous screens onstage providing constant subtle movement and color. The projection cues outnumber the lighting cues in this show, says Whitney:
"It's really one of the most difficult things I've ever done, because I wanted to have an ethereal quality as we were moving through this dog's mind. It's important to keep the set changes from being clunky, keep all the projections fluid, and make sure things happen where they need to happen in order to set the right emotional cue."
Thanks to a hardworking, dedicated, and creative crew—Olivia Burlingame, Master Electrician; Tom Dakan, Video Designer; Lucy Gentry-Meltzer, Costume Designer; Keith Jewell, Sound Designer; Gina Salerno, Stage Manager; Thomas McGee, Assistant Stage Manager; Rob Taylor, Properties—everything works together to create a cohesive picture.
And when all the pieces come together, the audience will be able to experience that emotional intuition that happens between dog and owner, in order to connect to the touching story of Enzo's human family. And that is exactly the experience that readers have connected with in the original Garth Stein novel. Through the perspective of the family pet, we go through the whole range of emotions and experiences of a modern American family.
Enzo's owner Denny, played by Evan Sullivan, is a racecar driver and devoted husband and father. Through the course of the story, he falls in love and gets married to Eve, played by Marianna de Fazio; has a daughter, Zoe, played by Kaylee Heinz; and struggles with his in-laws, played by John Serembe and Carrie Schnelker. All told, there are around 40 characters played by ten actors with Austin Bennett, Michael Christopher, Elex Hill, and Christopher Rocco rounding out the cast.
It seems that the production is well on its way to success in achieving the intuitive emotional connection when Whitney herself gets caught off-guard by emotion:
"It's been surprising how moving certain moments are. Because one really does try not to pander. We don't try to set up steps to create a tearjerker. We just play the character and go through the events. If it's moving, it's moving; and if it's funny, it's funny. We don't play for sentimentality; we just try to tell the truth. And I get surprised that even after three weeks of working on it, that when we get to those moments, I'm genuinely moved."
What other motivation is there to experiencing live theater, a good book, or any other form of art? To be moved, to touch on emotions, to see this great wide world from a new perspective is why we do what we do.
So come see it for yourself right here in downtown Olympia. Garth Stein himself will be in attendance on opening night – March 1 – so don't miss your chance to sip some free champagne with a bestselling author!
Get your tickets now at the Harlequin Productions website, call the Box Office at 360-786-0151, or stop by at 202 4th Ave. E in downtown Olympia. For more information and to subscribe for the remainder of the 2018 season, visit the Harlequin Productions website.