Chase and Chaz Poston are identical twins. Both seniors on the Olympia High School wrestling team.
As expected they have squared off against each other numerous times at practice over the years. It's an almost daily occurrence making their final total number of unofficial matches dramatically high, considering the fact the brothers participate in the sport year round.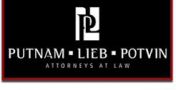 "It's kind of hard to wrestle him because we are so close and know each other so well that we know what the other is going to do," Chaz said. "I'll beat him in Greco, he'll beat me in freestyle and it's dead even in folkstyle. It's always fun to wrestle against him though."
And after, regardless of who emerges victorious during that specific showdown, the two admirably shake hands, right?
"Most times," answered Chaz. "Sometimes I want to punch him right afterwards."
Chase, who is the older of the two brothers by 5 minutes, echoed this sentiment.
"We can get a little heated," Chase added. "The coaches know when to separate us."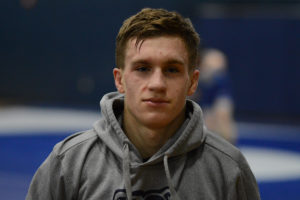 Practice is usually where these all-Poston clashes end because once the Bears head to a tournament Chaz settles into the 113-pound weight division, while Chase opts up and wrestles as a 120 pounder.
Electing to do this is based on one major factor.
"It's a little too much on our parents when we end up wrestling each other," Chase said. "It's more for them than for us, but it's worked well."
During their freshmen year, Chase and Chaz both entered the season with thoughts of being Olympia's 106-pound varsity wrestler. Chaz bested his brother for the slot.
"The match went double overtime. It was crazy," Chaz said. "We definitely had a family talk after that match. Since then, he's always been going up (a weight class) and I've stayed at the same weight."
Despite it being the law of House Poston, there is the occasional, unavoidable tournament match up when the boys compete outside of Olympia High School. Such was the case during this last summer when the two met in the finals of the Tri-Titans: U.S.S. at the Midway freestyle tournament in San Diego. The match took place on the deck of the U.S.S. Midway with Chase picking up the victory this time around.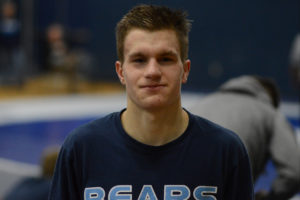 "They're a lot less nervous," Chaz said about his parent's more relaxed reactions to seeing the two face either other. "They told us to just have fun and go at it."
The decision to separate the twins into two weight classes during high school wrestling season, however, has proven to be a successful one as Chase and Chaz are both ranked in the state's top 10 among Class 4A wrestlers this year with each eyeing a return to the state tournament.
The Postons closed out 2017 by both placing at the prestigious Pacific Coast Wrestling Championships in Vancouver. Chaz finished second in the 113-pound division, while Chase placed seventh at 120, and now have positioned themselves for strong postseason runs.
"We both have different things we are good at," Chase said. "The way my brother wrestles at 113 is a lot different than the way I wrestle at 120. (Chaz) is strong. He likes to use his strength. He wants to keep everything in tight and use a lot of pressure."
Chase goes in a slightly different direction, electing to step back and analyze the situation before picking the optimal time to move in.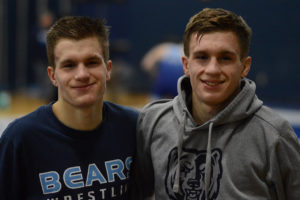 "We push each other at practice. When someone gets a takedown, we want more," Chase said. "We've definitely been working more on not just being happy with little decisions. We're trying for majors and techs, get pins to score points for the team."
The brothers cut their teeth in the sport as members of an Olympia youth wrestling program, but failed to give wrestling any real serious thought at the time.
"Soccer was our big deal," Chaz said, "but freshman year we saw what real high school wrestling was and just fell in love with it. Now we're doing it year round."
But, that doesn't mean it always came easy for them.
"I weighed 100 pounds when I was a freshman and wrestled at 113. It was awful," Chase said. "We both took a lot of loses our freshman year we probably shouldn't have."
"It was pretty tough the first couple of years," Chaz remembered, "but you learn from it and improve. I now try to help out the 106-pound freshmen who are coming in. Tell them to not get too caught up in wins and just go tournament to tournament. I don't even know the schedule until the week of."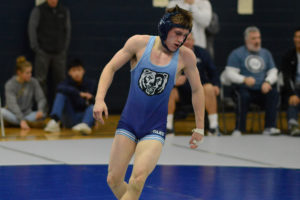 Chase and Chaz will begin their final high school postseason February 2-3 at the South Puget Sound Tournament at Puyallup High School. Both have set the goal to end the season at the state tournament in Tacoma Dome.
"I'm looking forward to turning up the pace," Chaz said about the upcoming postseason. "Right now you have to go at a certain pace at practice to make sure the entire team is getting it, but we're ready to get after it."