Several years ago I saw firsthand what a Habitat Home can do for a family. My sister was in a failing relationship with three young daughters. She is a determined, smart and driven woman that found herself in a bad situation with no place to live. I believe her Habitat House was a turning point for her. She got a steady job and her girls' attitudes changed. See, a home is not just a place to sleep. Owning a piece of land and the roof above your head fosters confidence, pride and investment. It makes you work just a bit harder. But, you cannot make a home without a physical house, which is why South Puget Sound Habitat Humanity (SPSHH) was thrilled when approached by American Forest Resource Council (AFRC) to form a new partnership allowing them to build even more homes.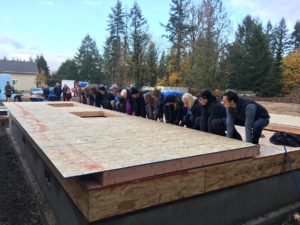 ARFC is a nonprofit trade association with a local branch in Olympia. The association represents the forest products industry in the Pacific Northwest including mills, manufacturers and loggers. The nonprofit is also known for its charity work – having done a similar project in Springfield, Oregon, before reaching out to SPSHH about providing a grant.
"AFRC's members care deeply about and are committed to the success of the communities in which they work, live and play," says Travis Joseph, president of the AFRC. "This project is a representation of that commitment: using our local materials from local forests to build an affordable house for a deserving family."
The organization and its members provided high-quality material goods that are locally manufactured along volunteer hours and cash donations valued at $50,000 to build a home for the a local family in Lacey. Local AFRC members including Sierra Pacific Industries who created a special framing lumber package, Murphy Company who donated plywood, and Interfor, as well as members from California, Idaho, Montana and Oregon, all contributed to the Habitat project.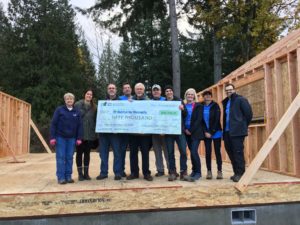 Staff from AFRC and their members also came out for a wall-raising on the home in November.
"AFRC is the perfect partner for us," says Shawna Dutton, interim operations manager at SPSHH. "They really embody our mission. They are bringing community together to work together to help build homes for people who are looking for an affordable path to home ownership. The fact that they are bringing their members together to make this happen is pretty much the coolest thing in the world. Their amazing partnership allowed us to build one extra home this year affording one local family the opportunity that has the capacity to be life changing."
Did you know Habitat loses money on every home?
Neither did I. They sell their homes at a loss to the families, who put 400 hours of "sweat equity" into their home. In return, families receive a mortgage payment that has zero percent interest and is no more than 30 percent of their income, including taxes, insurance and any HOAs. As a result, partnerships like the one with ARFC are imperative to their work.
The difference these partnerships make is incredible. One recent family was on Section 8, a federal rent assistance program, when they bought their Habitat for Humanity home. The mortgage payment was half what they had been paying for rent and the difference in their budget allowed them to no longer need any government assistance.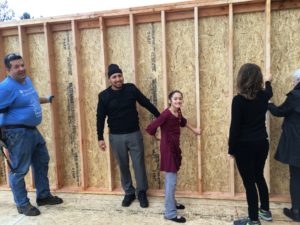 Shawna says that all money that is donated by organizations or individuals goes straight to the building fund, none of it is used for administration or overhead expenses. Instead, administrative funds are raised through the two Habitat for Humanity stores in West Olympia and Yelm.
New Mini-Community in Lacey
The AFRC sponsored home is part of a new 33-house community that SPS Habitat is developing. The development includes community gardens and a play site for kids. "It puts these fantastic hard-working people together in a safe, awesome neighborhood," explains Shawna. "Our neighborhoods are comprised of a lot of young families with children. In fact 52% of our homes are sold to single mothers with children under eight. Single mothers have one of the toughest obstacles to overcome when it comes to home ownership – not having dual incomes and often times making low wages. We can help them overcome that hurdle and provide a safe, stable home for themselves and their children."
This community marked the beginning of a ramp-up in homes being built by SPSHH. Previously, they built two to four houses a year. This year they built eight. "It's nowhere near enough to meet the need," Shawna says. They meet with over 500 families and individuals a year who are interested in the program. "But, for every extra family we can help, it's the world to them. It's a significant impact on the family and our community."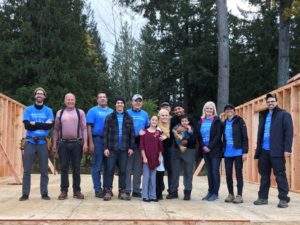 The home dedication ceremony will take place in summer 2018 where Travis will get to hand the keys of the house to the family. AFRC works with other partners in the Thurston County area, including Youth Build, the Commissioner of Public Lands Hilary Franz and the Department of Natural Resources. "We see an obvious connection between our industry and the success and sustainability of local communities," says Travis. "In addition to doing the right thing and trying to make a difference in a family's life, this project helps connect the dots between the benefits of responsible forest management, local manufacturing to produce environmentally friendly products, and wood products used to build a home."
Habitat for Humanity is always looking for individuals to get involved. You can volunteer or donate. "Just $15 a month helps build a home!" says Shawna. Every dollar makes a difference.
For more information, visit South Puget Sound Habitat for Humanity online.
Sponsored