Cheesy fritattas, savory roasted potatoes, and mimosas. Just reading the words is enough to make your mouth water for a big brunch. And when we say big, we mean BIG –  as in the Big Brothers Big Sisters of Southwest Washington's 2018 BIG Brunch happening January 31 at 11:00 a.m. at Hotel RL in Olympia. The event is free for those hoping to learn more about the impactful programs BBBS offers. The brunch will support the Gold Star Youth Mentorship Program, a partnership with wear blue: run to remember.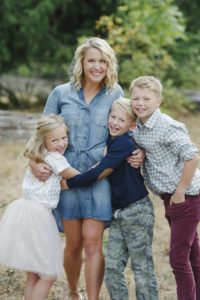 This year's keynote speaker is Lisa Hallett who co-founded wear blue after her own husband was killed in action in southern Afghanistan in 2009. She and a group of fellow army spouses turned to running as a healthy outlet for grief.  Earlier this year, BBBS and wear blue joined together to create the Gold Star Youth Mentorship Program, a program that pairs children who have lost a military parent in the line of duty with an active duty military mentor. The duos run together, including participating in weekly 5ks. Many of the matches engage in other bond-building activities together as well.
"It has been an incredible partnership, working with Big Brothers Big Sisters, tapping into their passion and strength in creating relevant youth mentor relationships," Lisa says. "In symphony with the nine-week run training and the support of the larger wear blue community, these military matches have been a powerful tool in promoting healing and empowerment in our youth who live daily with the greatest of sacrifices."
At the BIG Brunch, Lisa will share her personal story and how the need for the Gold Star Youth Mentorship Program became evident through her own kids. "All three of my own children are a part of this program," she says. "I have seen significant gains in their ownership of their own journeys of healing, highlighted by increased self-confidence and greater joy in how they move forward through loss, remembrance and life." Lisa will talk about the impact the program has made on both the Littles and the Bigs.
This event is perfect for those who hope to learn more about BBBS. "The BIG Brunch helps spread awareness about our mission and the impact we have in the community," says Pearl Price, Director of Marketing and Outreach for BBBS. "It's more of a business-community-friendly event as it's just two hours out of the day, which makes it easy for people to attend."
Big Brothers Big Sisters of Southwest Washington does the legwork to find matches for the kids from the pool of active duty military mentors that apply.  Many of the parents have talked about how the mentors from BBBS have made a significant difference in the lives of their children, not only helping them heal, but giving them an additional connection to the military. And, in some cases, the chance to hang out with a mother or father figure that is now missing in their lives. These positive outcomes are made possible by the incredible diligence BBBS puts into selecting the right mentors and then pairing them with the right children.
Donations from the BIG Brunch will help with costs for the Gold Star Youth Mentorship matches. Each mentor goes through the same rigorous screening process as those who are mentors in BBBS regular program, which includes interviews, background and reference checks and training. "In 2017 we served 16 matches," Pearl says. "This year, our BIG goal is 30 matches. But even if we hit 20, we will be more than happy."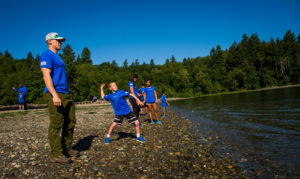 The fundraising goal for this year's Brunch is a 33% increase over the total raised in 2017. So come with an empty belly and a heart for giving to help our local children dealing with a loss of a parent.
RSVPs are preferred in order to plan seating and ensure the coffee pots and pastry trays stay full. To pre-register, visit the Big Brothers Big Sister of Southwest Washington's website.
Sponsored