Big Brothers Big Sisters of Southwest Washington (BBBS) is the premier mentorship organization nationally, so it's no surprise that when wear blue: run to remember decided they wanted to pair Gold Star Youth (children who have lost a military parent in the line of duty) with an active duty military mentor, they went straight to them. The pairs meet every Saturday for training runs in preparation for the wear blue: run to remember 5k on Memorial Day, May 29.
"Big Brothers Big Sisters is passionate about, and the experts at, building mentor relationships," says Lisa Hallett, chief executive officer and co-founder of wear blue. "And I think whenever there is an opportunity for like-minded organizations to connect and support one another that it should be leveraged. We didn't want to recreate the wheel and were really fortunate to step into a relationship with an organization that already has such an impact on our community."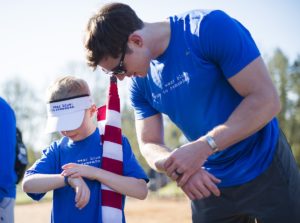 Because they already have a system of screening and matching mentors in place, it only took BBBS a few weeks to pair the sixteen Gold Star Youth with an active duty military member. Since so many adults signed up to help, two participating youths actually have two mentors, so there are a totally of eighteen "Bigs" as they call them, to sixteen "Littles".
For Lisa, it's a heart project. Her husband John was killed in action and her children are part of the mentor program. To her, the program allows her children, who were too young at the time to really know their father, a chance to understand his love for his country and for service.
Other parents have different reasons for having their children in the program. For some, it's a way to stay connected to the military. For others, it's someone to help their kids learn goal setting. They are all learning how to use running and exercise as a healing mechanism. "It's also a way for their child to honor their parent on their own, separate from family activities," explains LeAnn Winkler, Director of Program Services for Big Brothers Big Sisters.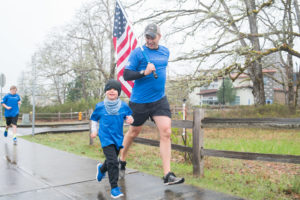 "One mom shared with me that after the first week, her son came home and said, 'do I have to wait all the way until Saturday to see him again? I miss him already,''' says LeAnn. "Another boy who learned he was going to be part of the program, before it even started, was excited because 'he was getting a big brother who was just like Daddy.'"
LeAnn says that after Memorial Day, the mentorship matches are more than welcome to continue their relationship if schedules allow. In fact, many of the pairs are already choosing to meet up on other days, including additional runs or attending the youth's sporting events.
The Memorial Day event is a national effort for individuals, clubs and community groups to run miles in honor of each service member lost to the Global War on Terror. To join the local Memorial Day running event in DuPont, visit the registration page where you can pledge a certain number of miles and add the name of a fallen soldier you are running for. If you do not know a fallen soldier, a name and story will be provided to you. To learn more, contact event organizers at  remember@wearblueruntoremember.org.
For more information about all types of mentorship opportunities, visit the Big Brothers Big Sisters of Southwest Washington's website. 
Sponsored
This slideshow requires JavaScript.