Unified Oly wanted to "pack the gym" during the first weekend of 2018 for their annual basketball game fundraiser and our community did just that with the gymnasium reaching standing-room only before the game even started. The two Unified Oly teams from Olympia High School went up against the Unified teams from North Thurston High School and Timberline High School for a night of fundraising, community support and energetic basketball.
Unified Oly is a part of the national Unified Sports program which is "an inclusive sports program…that includes Special Olympics partners (individuals without intellectual disabilities) and Life Skills Athletes (individuals with intellectual disabilities) on teams for training and competition." The national program is an effort by Special Olympics and includes multiple sports such as robotics and soccer.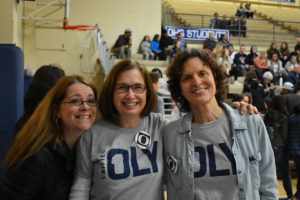 "This is sports for all students, no matter what your level," says Marion Sheridan, a teacher who works with students that have intellectual disabilities at Olympia High School. "Students with special needs are supported, encouraged and included by the whole student body – and that's a wonderful thing."
The event took place on January 5 at Olympia High School and brought together crowds from all over Thurston County as fellow students, teachers, and community members flooded the gymnasium to show their support. Other activities for the evening included a performance by the Olympia High School Dance Team, an interview booth run by students, and a halftime "Miracle Matching Minute" where OHS Cheerleaders ran through crowd collecting donations – with every dollar to be matched by an anonymous community donor.
Because the Unified Sports programs are technically registered as clubs and not athletic programs, they do not receive athletic funding from the school. Therefore, events such as this one and "Fans in the Stands" for soccer in the spring are crucial to raising the needed funds to operate the program. This year marks Olympia High School's third year with Unified Sports.
"[Our school's] administration and entire staff have been so supportive," says Sheridan. "It's been a unifying experience in our school, and the program should be in every school in the country."