Submitted by Intercity Transit
Decked with huge red ribbons, Intercity Transit's Jingle Bus will operate on local routes throughout the holiday season. Travelling on a different route each day from November 24 through December 29, the Jingle Bus offers riders free fare, candy canes and cheer everywhere it goes.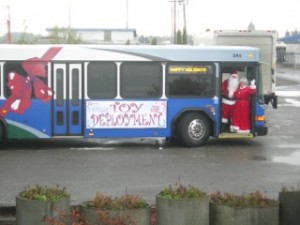 Riders will feel the spirit of the season as soon as they climb aboard; even the inside is decorated for the holidays, with garlands and red ribbons running the length of the bus. The Jingle Bus has been a tradition since the 1980s and is Intercity Transit's way and wishing our community "Bus Wishes" during the holidays and throughout the year.
Traditionally, the location of the Jingle Bus has been a surprise. This year, however, riders can plan ahead by viewing the schedule at the Intercity Transit website.
See the Jingle Bus in all of its holiday splendor at the Olympia Downtown Association's annual Downtown for the Holidays parade on Sunday, November 26, which begins at 3:00 p.m. near the Olympia Farmer's Market and ends at Sylvester Park.