The tagline for the FIRST Robotics Competition is 'The ultimate sport for the mind.' Alternatively, high school participants call it "The hardest fun you'll ever have." Within a six-week time frame, students are challenged to raise funds, design a team "brand," hone teamwork skills, and build and program industrial-size robots to play a difficult field game against like-minded competitors.
In January, Saint Martin's University will host a kick-off event for the competition which will include 15 high school teams. "Each January, they have a live-streamed worldwide announcement for the competition," says Saint Martin's Assistant Professor of Mechanical Engineering Rico Picone, Ph.D. "We're one of the host locations for Washington State. We're expecting as many as 500 high school students on campus."
The event is part of a strategic engineering and STEM initiative on the campus that includes new buildings dedicated to science and engineering. Last September, the university opened the 17,363-square foot Panowicz Foundry for Innovation and the E.L. Wiegand Laboratories where students can apply, test and evaluate designs.
Another part of the initiative was bringing in new faculty. "I was among them," says Picone. "There's a good mixture of folks. The size of the engineering school here allows us to focus on undergraduates and create a really nice learning environment."
This year, Saint Martin's will offer three $1,000 scholarships for members of FIRST Robotics teams. Picone learned about the scholarships through his role as a mentor for the Olympia Robotics Federation. "Some of the folks from that team made me aware of the fact that there are these scholarships that universities offer to students who take part in robotics technology challenges," he says. "It sounded like a great opportunity for us. I asked the administration if we could find some scholarship funds for these students and I'm really glad they came through for us."
He hopes the scholarships will help to attract more students with an interest in robotics to the university. "We have a great program to bring them into," he says. "With the new facilities and new faculty, we're well positioned to make a nice pathway for students to continue their study of robotics and STEM in general."
Dean of Enrollment Pamela Holsinger-Fuchs, Ph.D. agrees. "We have a very strong engineering program and now we've added computer science," she says. "We'll take any opportunity to bring students onto campus and support them in STEM."
Recently, the engineering program received national recognition when a team of Saint Martin's students won first place in the 2017 Precast/Prestressed Concrete Institute's Big Beam Contest, which included entries from colleges and universities across the U.S. and Canada. Their first-place finish earned them a $2,000 prize along with travel expenses and registration for next year's PCI competition in Denver. "We're seeing a lot more people from all over the nation becoming aware of our engineering program," says Holsinger-Fuchs.
On campus, Picone is in charge of the robotics lab at the Panowicz Foundry for Innovation and the E.L. Wiegand Laboratories and is starting a robotics club this year that will compete in the annual ASME (American Society of Mechanical Engineers) Contest. "We have mechatronics and instrumentation that are geared toward helping students create their own robots," says Picone.
For students who already have experience, the program provides an opportunity to deepen their understanding of engineering, he explains. "We teach design and analysis and fill in a lot of the background information they need to design robotics systems."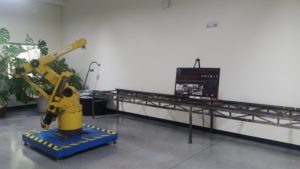 The techniques they learn are crucial to being able to design robotics at the foundational level, he says. "Our first programs are good at getting kids interested and giving them some experience. The next step is to dig in deeper. We have other students who are not exposed to robotics in high school and we'll try to bring them in through the club. They're often able to perform really well. There's a good camaraderie and students with more knowledge teach those with less."
That sense of camaraderie permeates all levels of the program, he says. "They key features are the quality of the teaching and learning environment. With our size, we're able to pay close attention to our students and their progress. We have great facilities and a quality program."
And in January, the rest of the world will know it, too.
For more information about Saint Martin's University, visit www.stmartin.edu or call 360-491-4700.
Sponsored