Charles Grimmer's roots are set in stone. Literally. He grew up in his family's stone installation business, surrounded by professional stone masons from an early age. An accomplished stone mason himself, Grimmer spent countless hours as a teen learning the trade from his father and the accomplished stone professionals working for the business.
However, when the time came to choose his future career, Grimmer enrolled at South Puget Sound Community College, intending to study physical therapy. While the challenging courses were new and intriguing, Grimmer's roots were pulling him back to the family business where his father had always hoped he would land, taking over the reins when he was ready to retire. "Even though I looked elsewhere, I realized that working with stone was the place for me," he recalls.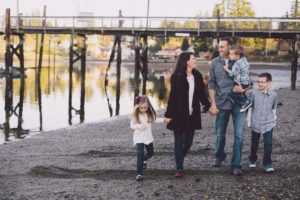 Grimmer joined his dad and brother, working together for many years as professional installers, helping businesses and homeowners create beautiful buildings and landscapes with creative and quality stonework. In 2011, Grimmer wanted to pave his own path, and struck out on his own.
Grimmer's reputation and experience, built through years in his father's company, were well known and his new stone installation business was successful. However, Grimmer knew there was something more for him. "I started doing some research to figure out my next step, the next generation of my business," he says. "I knew I wanted to grow, but wasn't entirely sure what that would look like."
A Focus on Quality Stone Products
With a lifetime of knowledge as a mason under his belt, Charles did not need to look far when seeking the next level for his business. "During my research toward my future career, I realized my knowledge didn't just need to be applied in the field, performing installations," he recalls. "My background was well suited to providing the actual stone and stone products to the masons themselves. And, I had come across some incredible products and knew they were unique and different than what was currently available in the market."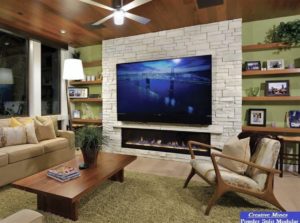 With this epiphany, Professional Stone Products (PSP) was born. Grimmer's company, located on Mottman Road in Tumwater, now carries nearly everything you could want to complete a stone project, big or small.
PSP carries natural stone in more choices than you can imagine. Products range from natural stone panels and thin veneers to flagstones and dimensional pavers. Looking for color? Professional Stone Products has stone in nearly every (natural) color of the rainbow – you should see their sage green, it's absolutely gorgeous. Their selection is as vast as their knowledge and pricing is kept low while quality stays high. PSP prides itself on natural stone options for prices comparable to manufactured stone found elsewhere.
PSP offers manufactured stone, too, from top-of-the-line manufactured stone company, Creative Mines. Creative Mines has been extensively tested and typically outperforms other manufactured stone on the market, a critical distinction when you are building something you hope will last a lifetime. Creative Mines products are put through rigorous testing to ensure it is the best on the market, making your project durable as well as beautiful. Products are tested for durability in freeze/thaw cycles and are manufactured with finer grained ingredients resulting in a high-density product, twice as hard as other options. In addition, Creative Mines stone products are "hydrophobic" says Grimmer. This means water cannot soak into or through the stone resulting in no cracking and an impermeable layer protecting the structural wood behind.
Don't miss their fire pit kits and outdoor kitchens. Imagine yourself cozied up around your own outdoor fire pit this fall. S'mores anyone? The kits take the guesswork out of the project, including everything you need to create the space of your dreams. PSP's outdoor kitchens are made from an aluminum frame manufactured locally and come with all the appliances – grill, refrigerator, sink – whatever you can dream up. Or, if you already have the appliances, kitchens can be made to order to fit your needs.
"We have more selection than almost anyone else in the state," says Charles. "We pride ourselves on having just what a customer needs to make their vision into a reality."
The Professional Stone Products Difference
What really makes Professional Stone Products stand out is the passion they have for helping clients complete their project and create something of beauty and durability, all while staying in their budget. "Customer service is the heart and soul of the company," says Grimmer. "It's just who we are."
That service includes their expert knowledge selecting and understanding the stone options as well as providing second-to-none service. PSP values their customer's time and aims to pre-pull your order, having it waiting when you arrive. In addition, they load the product for their customers. "I know that seems standard, but surprisingly, it's not," says Grimmer. "We always load each order for every customer – standard."
And, when unique circumstances arise, PSP can make a decision on the spot. As a small, local business, you are dealing directly with the owner and his team. This can speed service and help get projects finished more quickly.
At the end of the day, Grimmer's goal is for his customers to leave happy, knowing they have the quality products needed to make their dream design into a reality – one that will last for years to come.
For more information on PSP's extensive product line, visit the Professional Stone Products website, call 360-489-0763 or drop by their showroom.
Professional Stone Products
2621 Mottman CT SW STE F in Tumwater
Monday-Friday: 7:30 a.m.-4:30 p.m.
Saturday: 11:00 a.m.-3:00 p.m.