On the face of it, the young woman was not an ideal scholarship candidate. During her first two years of high school she'd failed many of her classes, earning just a 1.0 GPA. As she explained in her application to The Learning Seed Foundation, "I'm being raised by my grandmother because my mother has been in prison. For years, I just didn't care about school or anything else."
But after her sophomore year, something changed. "She figured out that if anything was going to come of her life, she was going to have to do it," says Marsha Long, who founded Learning Seed with her husband Merritt in 2001. "She buckled down and improved her grades so that she was able to graduate." The very qualities that disqualified her from other programs made her the perfect candidate for a Learning Seed Foundation scholarship. "She'd had hardship, she'd had an awakening, she was motivated and she'd shown the potential to do well," says Long. "We funded her for several years."
The scenario sums up the difference between Learning Seed and other organizations that focus strictly on academic success. "We wanted our profile to be a mix," says Long. "It includes the high achievers, but also those who've had other challenges. Maybe they had to work. One of our recipients has a sibling with a severe disability and some responsibility has fallen on her to care for her brother. There can be a whole range of things they have to focus on other than school."
Scholarships typically fall in the $1,000 to $2,000 range and are aimed at students of color. "So many times, they're the first in their family to attend college and they don't have role models," says Long. "There's no one to tell them, 'This is how you do it.'"
From the start, the Longs have worked with the Community Foundation of South Puget Sound which handles the IRS requirements and receives and disperses all monies. "That was one of the smartest things we did," she notes. "If we'd had to do it all ourselves, I don't know if we would have kept going."
On October 21, Olympia Federal Savings is hosting a benefit concert for the Learning Seed Foundation at Capitol Theater. From 6:30 to 9:30 p.m., singer songwriter Danny O'Keefe, author of 'Good Time Charlie's Got the Blues', will join guests Terry and Jerry Holder for a musical evening. O'Keefe's songs have been recorded by such artists as Elvis Presley, Willie Nelson, Judy Collins, Nickel Creek, Alison Krauss and Alan Jackson. In recent years, country singer Miranda Lambert recorded 'Covered Wagon', one of O'Keefe's early songs. General admission tickets are $25 at the door with all proceeds supporting the scholarship fund.
OlyFed has been involved with the Foundation since 2004. "We are always interested in organizations that help local youth be successful both in and out of the classroom," says Sandy DiBernardo, the company's Vice President and Marketing Director. "This scholarship program is unique as it not only focuses its support on students of color but also benefits students that have overcome significant obstacles in their lives."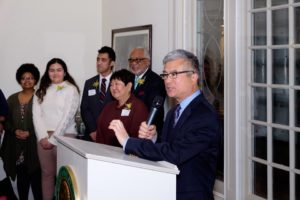 The decision to create Learning Seed came about when both Longs were facing retirement after leading roles with various state agencies. Marsha Long had been a deputy in the Department of Public Lands before becoming Director of General Administration under Governor Gary Locke. Merritt Long was in charge of the Commission for Vocational Education before heading up the Human Rights Commission, the state's Lottery division, and ultimately the Liquor Control Board. "The beauty of state government is that you can move around," says Long. "We both feel very fortunate that we were able to do that."
Both grew up with parents who had struggled to gain access to education based on either the needs of their families or systemic discrimination. Those factors influenced their ideas about who should receive the scholarships. "Education was very important to them," Long explains. "We both had the chance to go to college and get master's degrees, and we know it really makes a difference in terms of income and opportunities."
Since 2002, 91 students have received foundation scholarships and several have become volunteers. Erin Aquino was a member of the initial group who went on to the University of Washington after graduating from Timberline High School. Today, she heads up marketing for Panowicz Jewelers and helps the Longs with social media.
The most common refrain Long hears from alumni is how much it matters to know that they are supported by people who aren't in their families. "Almost to a person, they'll say things like 'Having people believe in me makes me want to do them proud,'" she says.
Such stories are what keep organizations like OlyFed involved. "We have been able to personally meet the students and each of them have stories that are so touching," says DiBernardo. "Many never thought they would be able to further their education and all of them are so genuinely grateful for this opportunity."
Learn more about the benefit concert or purchase tickets online here.
Sponsored