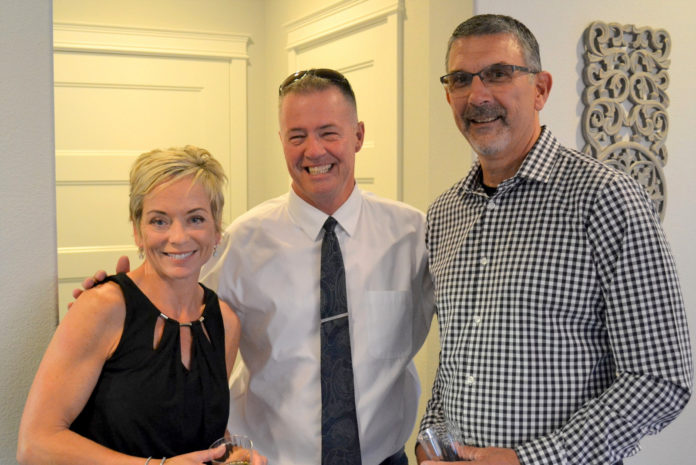 The Olympia Master Builders Tour of Homes™ was the place to be mid-September as the events of the weekend were truly festive community gatherings in Thurston County, WA.
Hundreds of visitors were wined and dined at two beautiful Rob Rice homes for the Chefs on Tour event Friday evening—a sneak peak of some of the homes on the Tour before they were open to the public for the entire weekend.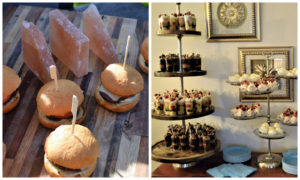 With live music playing in a gorgeous backyard, the aroma of sliders grilled by Chef Ricardo drifting through the air and a backdrop of the sunset over the golf course, the beautifully-staged Riviera (3108 sq.ft.) at the Rob Rice Homes community of Campus Estates attracted nearly 400 visitors on Friday evening. The guests included local elected leaders, business owners, Realtors and other real estate professionals, neighbors, homebuyers and people from around our community who came to see the homes that they have heard so much about.
"It was a terrific time that not only showcased the work of amazing builders like Rob Rice, but also supported the work of many area businesses—chefs, home stagers, designers, furniture stores and more that all work with the building industry, a key part our economic vitality," commented Thurston County Commissioner Bud Blake who attended the Chefs on Tour party at Campus Estates. "This was a great community event!"
The Rob Rice Home at Steilacoom Ridge also had hundreds of visitors for the Chef's on Tour. Luscious parfaits and delectables were colorfully stacked and displayed by Gotti Sweets and sampled by guests as they meandered through the open and bright downstairs master plan.
Though the stunning Cottonwood on display at Steilacoom Ridge had already been sold, its grateful new owners took part in the Chefs on Tour and expressed their appreciation for their new home, its gorgeous design features and its fabulous floor plan.
"It is a beautifully built home with a perfect floor plan for just the two of us, as we both work at home," the new homeowner explained. "And finally, we won't have to care for the many acres where we are living now! We are very happy."
Homes at Steilacoom Ridge have been bought up quickly, so that many will be delighted to hear that two new homes will be ready in time for the holidays in the highly-desired community. One is the popular Rainier plan (2553 sq. ft.) with three bedrooms and a large bonus room scheduled to be completed by October 30. The Aspen (2492 sq. ft.) is the same floor plan as the Cottonwood with a variation in exterior architectural design and will be ready in mid-December.
Tour of Homes Drew More Visitors
Both the Rob Rice homes at Steilacoom Ridge and Campus Estates were open to the public Saturday and Sunday after the Chefs on Tour when hundreds of more visitors dropped by to see the homes built by the area's largest local builder.
Rob Rice Homes had partnered with two other Best of South Sound businesses to come up with the amazing display of features in both homes. Beautifully staged by Design Smart Homes Staging & Redesign with furniture carefully selected from The Olympia Furniture Company, the homes drew many admiring comments from visitors throughout the weekend.
"After a very busy summer when our homes have been in such huge demand, this was a time for our guests to just enjoy the quality and stunning features of our homes," said Helena Rice, who organized the event for Rob Rice Homes. "We are local and we loved hearing the responses as people walked through, wowed by the floorplans and how fabulous the homes looked staged. It was really delightful for Rob and I to host the event."
Olympia Master Builders (OMB) Executive Officer Angela White summarized the results of the annual weekend that brought out so much of the community.
"The Chefs on Tour, only in its second year, was a huge success," White commented. "Ticket holders enjoyed food from local chefs, touring homes, listening to fantastic musicians and had a wonderful time. The builders and remodelers that participated went all out, and are unquestionably building Chefs on Tour into a local 'must-attend' event!"
"We have already heard reports of home sales and remodeling project contracts directly linked to the Tour of Homes. This is the exact reason OMB holds this event. We want people in this community directly interacting with OMB members and seeing their quality workmanship and professionalism in person."
OMB is hosting a special awards dinner on October 10 at the Olympia Country & Golf Club to unveil the 2017 Tour of HomesTM  and Chefs on Tour Award winners!
Rob Rice is Thurston County's largest local home builder and has been voted the Best of South Sound for the last four years. He has built nearly 4000 homes in 43 different new home communities over more than 30 years. He and his wife Helena live in Olympia with their two sons; Alex Michael and Carson. Rob is a graduate of Washington State University with degrees in construction management and architecture.
Sponsored