By Mary Ellen Psaltis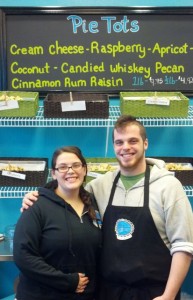 Arthur Gottlieb finds deep happiness in turning your cake dreams into realities. He sighs audibly at the thought of spending his days constructing wedding cakes. With his sister, Rebecca, the Gottliebs opened Gotti Sweets last November in order to become the "go-to place for specialty cakes." It's located in the Hawks Prairie shopping area near The Ram Restaurant. Signs on Freedom Lane guide you to their front door.
Visiting is initially worth the visit to admire their towering cake wall. The fondant-decorated cakes (though there is not real cake underneath) represent a handful of their creative expressions. Fondant is a thicker type of frosting that can be molded and sculpted. I love the whimsical monkey clutching a ripe banana; the giant clock is a masterpiece. Need a cake for four or four hundred? No problem.
Both brother and sister were born and raised in Olympia, each graduating from North Thurston High School. One of Arthur's earlier jobs was decorating cakes at the Dairy Queen. He later entered SPSCC's Baking and Pastry Arts program eventually becoming a teaching assistant. Over the next nine years, Gottlieb continued perfecting his craft by working at many local bakeries such as The San Francisco Street Bakery, Bearded Lady and The Bread Peddler. These jobs also provided opportunities to learn business operations and which products sell more easily than others.
The Gottlieb team have been baking and decorating cakes for friends and family for years. The popularity and continuing requests encouraged them to open their own business. Although Rebecca did not attend baking school, Arthur happily explained that his sister is "insanely naturally talented." She was putting the finishing touches on a brilliant Seahawks cake one of the days that I visited. I am positive a Seahawk enthusiast would be thrilled – even a non-fan could love it. Your personalized, one layer, full fondant cake is $40.00.
If the need for a specialty cake is not on your immediate horizon, there's yet another important reason to visit – Pie Tots. Bins of bite-sized, rolled up tastes of pie with cream cheese smooth crust await you. There are seven daily flavors such as pecan pie or coconut and one monthly special. Perfect with coffee, these melt-in-your-mouth goodies are not diet busters, unless you eat a pound of them (which probably would not be that hard to do).
Not in the mood for cake or pie? Their glass cases display inviting cheesecakes – either whole cakes or individual slices. Arthur imagines new taste sensations. I saw double chocolate and blueberry lemon. How about chocolate covered strawberry cheesecake? And as if that's not enough, there are muffins, cookies and coffee cake. Order a latte, or any other coffee drink, and consider all your options. If you'd rather not have a sweet, try the quiche. One smiling customer was reminiscing about the Cheese Pig, a breakfast bread pudding stuffed with bacon, sausage, eggs and two kinds of cheese. There are tables and chairs to savor your treats on site.
Here's a hot tip: Gotti Sweets is closed on Tuesdays. Because everything they make is made from scratch (even the fillings) and without preservatives they want to sell out by closing time on Monday. That means whatever cookies, pies, muffins and other treats are left are sold at half-price from 3:00 p.m. – 6:00 p.m. Monday afternoon. You might not get your favorite, but surely you will find something wonderful.
Making personalized edible art drives the Gottliebs to stretch their culinary creativities. Rebecca said that she even "quit nursing school to follow my passion." I'd say the baking bug bit them a long time ago. Arthur remembers making chocolate chip cookies in kindergarten. Rebecca, too, has been cooking since she was a little kid.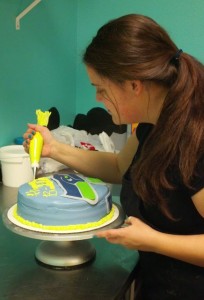 I grabbed a piece of double layered coffee cake from the day-old tray. The topping was crunchy and way more interesting than your plain coffee cake. Plus it was still moist. Though you won't find tiramisu or cream puffs in their case, you can special order either one.
Neighbor and Edward Jones financial consultant Felix Peguero purchased 55 pumpkin pies in November, to show appreciation to clients for their loyalty.  "As a past President of the Lacey Chamber of Commerce, it is my passion to see other local businesses thrive," explained Peguero.  "As clients were about to leave our Open House, I would walk them next door and the Gotti's staff would surprise the client with a pumpkin pie that was beautifully packaged."
Peguero mentioned that more than 90 clients walked through Gotti's doors that day and many have returned for repeat business.  "The pies were delicious, our clients really loved the gesture of generosity and to learn about a new bakery in town," added Peguero.
Basically, if you can think it, Arthur is committed to bringing your cake/baking goods dreams to your tabletop. "If I don't know it, I will figure out how to make it."
Don't you have a birthday or special occasion in your near future? Make any day a special occasion. Stop in for just-baked goodie and order your fondant fantasy. Check out their Facebook page to get inspiration.
Eat Well – Be Well
Gotti Sweets
8120 Freedom Lane NE, Suite 102
Olympia, WA 98506
360-489-1780