President John F. Kennedy admitted that "Change is the law of life." And, whether raising a boisterous family, kicking off your shoes after a long day of work or hosting the ultimate Seahawks game-day party, your home sometimes needs a refresh.
This is where the team at Olympia Furniture Company can help. They believe in consistently adding new inventory to refresh your home indoors and out. For nearly five years they've used their westside storefront to showcase amazing finds for every room in your house. Between frequent trips to the nationally recognized Las Vegas furniture market and building relationships with artisans and vendors across our region, Allen Starkey and Eddie Nelson offer pieces to meet any need, want or budget.
New to the store or tried-and-true favorites, several vendors have recently exceeded even Nelson and Starkey's demanding standards of quality, craftsmanship and innovation.
Klaussner Home Furnishings
Klaussner Home Furnishings offers American-made items with an array of custom upholstery finishes. Nelson and Starkey explain that they "used to carry a little but now have a huge amount" since "with more than 30 leathers and over 1000 fabrics, there are a crazy amount of combinations you can do." Klaussner has pieces for the bedroom, dining room, office and more. Many recliners and end tables come with the option of power and USB ports built in. If you're looking for a new game-day set up, don't delay. This level of quality and comfort moves quickly.
Stearns and Foster
Lacey-made Stearns and Foster mattresses may sound familiar but at Olympia Furniture Company you'll find the elusive, premium Reserve line. These come standard with gel foam, a pillowtop support layer and air vents to maintain breathability. Nelson is proud that they "carry the full line. Trust me – other mattresses use THIS mattress to sleep on," he laughs.
Burgundy Oak
This recent Las Vegas show find is unique and innovative. Created and sold by a team of recent university graduates in Calgary, Canada (most in their mid-20's) Burgundy Oak crafts home décor and accessories from reclaimed wine barrels. These aren't replica slats crafted to look like working wood but fully authentic, seasoned, winery-stamped casks.
One example from the company on-site at Olympia Furniture Company is a wine barrel that has been turned into a full bar set with built-in bottle racks and shelving. The interior remains textured with jewel-toned crystals from the wine once aged inside. Starkey shows off unique vintner markings on the outside and explains that each piece comes with registration forms that—once submitted—will be matched to the original winery and barrel contents.
Rizzy Home
Rizzy Home rugs provide global patterns and colors of amazing quality, affordability and durability. Olympia Furniture Company carries pieces that are hand wrapped and hand woven, power loomed to prevent a lifetime's worth of wrinkling, and even an exceptional rug from India woven from varying colors of undyed wool.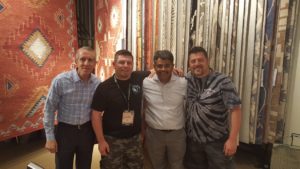 With no artificial colors added, the fiber's unique softness and color fluctuations can be enjoyed for generations. Another rug creates texture by using hand-trimmed levels of wool to craft subtle design patterns.
Moe's Home
Like the Olympia Furniture Company, Moe's Home has a little of everything and you'll find yourself smiling as you explore their stock. With storefronts as close as Seattle and South Center, their artwork, furniture and more incorporate reclaimed materials, a quirky aesthetics and an array of color. Starkey and Nelson currently have several of their multimedia artwork pieces on display. Paintings of a woman use real silk in her windblown dress and minimalist landscapes feature 3D metalwork train tracks.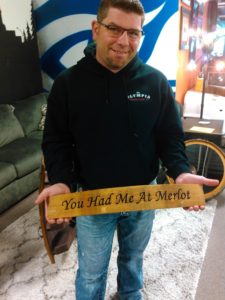 If any of these vendors pique your interest, the Olympia Furniture Company is open seven days a week at 2302 Harrison Avenue NW. Their website also has information on financing, Lay-A-Way (perfect for holiday wish lists) and featured coupons. Delivery is always available, typically within a few days.
For a more interactive view, visit the store's Facebook page for rave reviews, merchandise and tradeshow photos, and their dynamic video library. Check back regularly for sales, updates, and unabashedly addicting comic relief.
President Kennedy also claimed that "We must use time as a tool, not as a couch." With Allen Starkey, Eddie Nelson and the Olympia Furniture Company's revolving inventory, time is all it takes to solve all your couch needs. And beds, chairs, dining room sets, mattresses, artwork, lamps, rugs, entertainment centers, office desks, bookcases…
Sponsored