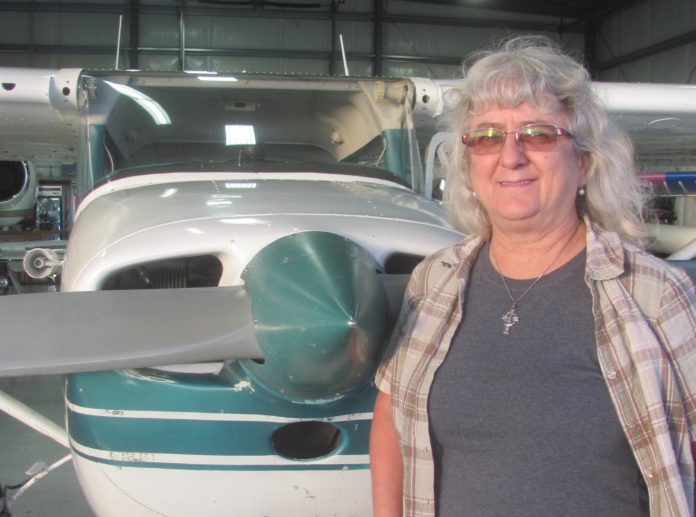 Thurston County has an amazing female pilot in its midst and her name is Ellie Heston. When Ellie's not riding her motorcycle to her full-time job, she spends time as a volunteer weapons instructor, flying airplanes for fun and overseeing Aviation Enterprises Inc. (AEI).
"A friend of mine was managing a bunch of jets and asked me if I wanted to make some money helping him," said Ellie, "So, I started taking care of his jets, cleaning them and detailing them. One thing led to another, word spread and more people started asking if I would take care of their jets. I had so much business that I created Aviation Enterprises."
Ellie has been flying airplanes since before her senior prom. It all began with a free airplane ride her dad bought her when she was 13. Next, she was taking flying lessons before school in the mornings, earning her solo pilot's license by age 16 and buzzing her house for fun.
They Do It All
"Clients hire AEI to clean their RVs, campers, boats, motorcycles, vehicles and airplanes at the end of a busy summer season, after several months of use, sometimes prior to selling, or whenever needed," says Karen Andrews, director of operations and logistics. AEI will give an estimate and then clean the item inside and out, including tires, but not under the engine.
"If it has wheels, we'll take care of it for you," states Ellie.
Customer satisfaction comes first with AEI. The team will accommodate every possible request. Sometimes older clients have a difficult time physically cleaning every nook and cranny or the top of their RV and find they need some assistance.
"We provide convenient professional cleaning, especially for those who may have a disability or illness, and they need a little extra help getting their RV or car back into good running condition," says Karen. "Our staff can usually come to your location or clean in our airplane hangar."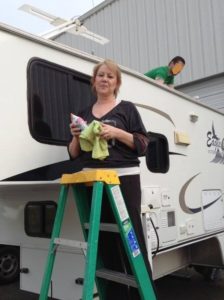 "One customer needed us to remove seats from his Lear jet so we could put his motorcycle and additional supplies in the back," explains Karen. "Removing seats and putting them back in can be rather comical because of the delicate nature of the task into and out of an elevated, narrow jet. But, we did it."
"Gift certificates from AEI are popular," says Karen. Clients often purchase a detail cleaning for an RV, camper, vehicle, motorcycle or boat for Christmas, a birthday or an anniversary. AEI prints a certificate for them to give their loved ones or friends or for them to leave as a surprise in a car or boat as a surprise.
This Company Knows Their Craft
AEI's management team knows their stuff. Ellie flies regularly and her Thurston County crew chief is a pilot with a degree in Aviation and Airport Management. Ellie started managing AEI ten years ago and hired capable staff to run the daily operations, starting with Karen.
"I was getting ready to retire and mentioned to Ellie that I wanted to work part-time, doing something new and challenging," recalls Karen. "I wanted to keep active and physical. Ellie laughed and said, 'I have a job for you!' Within two weeks I was learning how to launch Lear jets – getting them safely airborne."
Karen has adeptly managed two locations – Olympia and Hoquiam – for the past three years.
"It's definitely a privilege to be sitting in the cockpit of a corporate jet and thinking of the few people who ever get to do that," smiles Olympia crew chief, Michelle Statema.
"We have high-profile clients who trust in the honor and integrity of the company," explains Ellie. "We ensure privacy and security, so clients can feel confident that information will not be released."
Their clientele remain confidential.
Giving Back to the Community
Ellie does like to share her team's skills, however, by giving generously to the community in a variety of ways such as donating a free vehicle detailing for a school raffle fundraising project or allowing kids to experience airplanes up close.
"During open houses and air shows I like to encourage kids, especially girls, to check out our planes," says Ellie. "I like to put them in the cockpit and show them what the controls do."
"We were very active with Civil Air Patrol for six years, so I would let the aviation cadets go through the jets and the aerobatic planes," says Ellie. "It was a toss-up who liked what better – the Lear jet or the aerobatic biplane."
After only a few minutes in her presence, Ellie's gusto and courage become apparent as she shares stories of flying and starting AEI. Thurston County residents and beyond can be grateful for the invincible Ellie Heston and her flying machines, here when we need them for more than a decade.